RACE Digital Marketing Planning E-learning course
What will I learn in this module?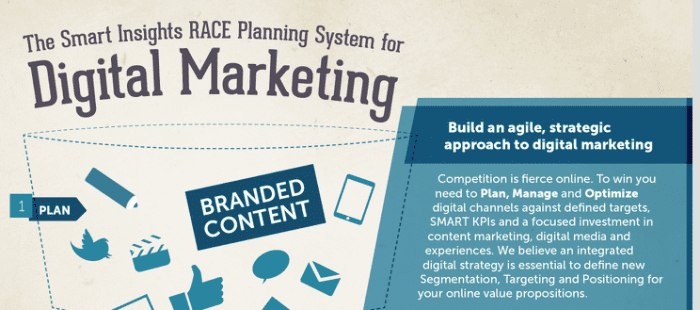 Hello and a very warm welcome to our core Digital Marketing e-learning course which along with the companion workbook will show you how to create a Digital Marketing Strategy using the Smart Insights RACE Planning system.
The course will help you learn the fundamentals of successful digital marketing and to create a long-term plan to grow your business using the 25 key digital marketing techniques we recommend to create and implement a digital plan.
It's designed to be super-practical – as you complete each topic, you can create a Digital Strategy or Plan for your business or your clients using a Digital Marketing Planning Workbook which we'll introduce soon.

Now you can start your first lesson by selecting from the list below, or you can read more about your tutor, the accreditation, downloadable workbook and optional assessment below.
Course learning objectives
The learning objectives for this course are to help you:
Create a structured digital marketing plan and budget
Identify the correct measures to set objectives and evaluate digital marketing
Review and prioritize the strategic options for boosting customer acquisition, conversion and retention using digital marketing
Understand and follow the practical success factors to improve results from digital marketing
Accreditation for Continued Professional Development (CPD)
The Smart Insights Digital Marketing Planning training course has been independently assessed and accredited by the CPD Standards Office(most recent assessment in 2016), so you can be confident that the quality of the learning and assessment experience has been audited and recognized for its quality. If you are following a CPD programme you can assign 40 hours of the course to CPD when you complete our e-learning course.

Try the first unit for free
You can complete the first lesson of this module as a Free member