Digital marketing strategy guide
At last—a practical, actionable, step-by-step guide to creating a successful digital marketing strategy
How will this guide help me and my business?
It's no accident that this is the most popular guide we have ever written alongside the companion Microsoft Word, Powerpoint and Excel workbooks and examples which mean that you don't need to start with a blank page. It's packed with practical, actionable, step-by-step guidance so you can join thousands of others and create a marketing strategy that works.
And when we say it works, we don't just mean you might get a lift here and there. No, by using the comprehensive, easy-to-follow strategies in this guide, you really will take your results to the next level.
Discover how our Digital Marketing Strategy Guide will help you to succeed quickly and more easily—so whatever industry sector you work in, you'll know how to prioritize to define your initiatives for success.
Don't just take our word for it. Global brands like Accenture, Canon, GSK and HSBC—and thousands of digital marketers and business owners—are using our strategic frameworks to optimise their digital marketing. Many of our members working for smaller businesses have grown their businesses by over 50%—these are proven strategies that you can download and start applying to your business TODAY.
Who is this guide for?
This download is for anyone involved with shaping future digital marketing direction for their business or their clients, including:
Company owners and marketing directors
CMOs, marketing managers and digital marketing managers
Marketing consultants or agency account managers
If you work for a smaller business or startup and want to focus on digital marketing channels and tactics, we recommend our 7 steps guide to digital marketing for small business and startups which explains practical success factors for 25 key digital marketing tactics across our RACE lifecycle planning framework.
How is the 7 Steps to Success strategy guide structured?
Inside, you'll discover:
RACE, the world's best digital marketing planning framework, with a step-by-step guide to rapidly create an integrated digital strategy—your roadmap to success.
The power of targeting—how to focus your marketing on exactly the right audience, so you'll boost your conversion rates.
How to get your value proposition right, so your prospects buy into your brand.
Why you should always build your marketing around the right vision, objectives and KPIs (plus, we'll show you how to forecast and create digital dashboards).
And a whole lot more besides!
The 7 Steps of this guide explain and give examples of how to define your digital opportunity, set your strategy and take action to implement your plan.
Introduction. Convincing others your need to invest more in digital marketing.
1. How to structure your plan. Using the SOSTAC® and RACE planning frameworks.
2. Review situation and performance. Identify priorities to improve by reviewing your current capabilities and results compared to competitors.
3. Define your opportunity. Forecast your goals for leads and sales, set SMART objectives and define digital dashboards to check you are on track.
4. Targeting. Create more customer-centred communications by defining your audience personas and selecting the best techniques and martech to reach them online.
5. Proposition. Improve your lifecycle communications for a more persuasive, compelling brand and define your online value proposition (OVP) and marketing tech.
6. Digital customer acquisition plan. Select your priorities and set the budget for investment in paid, owned and earned media to increase online leads and sales.
7. Digital customer retention plan. Improving customer communications via on-boarding, email marketing and social media.
Sounds good? Imagine what it could do for your career when you're smashing those targets time after time…
Click the look inside to see the full list of what's included.
Resource Details
Resource format: 100+ page PDF download packed with examples and checklists
Updates for this edition: New table to summarize the key deliverables and activities for implementing your strategy across RACE, plus updated examples.
Recommended related resources: The aim of this guide is to explain the top-level strategy development process to help you structure your plan, i.e. what should go into your plan and key questions to consider. It's part of a toolkit of companion templates in different formats to help you create your strategy including our Microsoft Word digital plan workbook, Excel digital strategy audit and Powerpoint digital strategy template. A shorter, interactive 'Quick Win' guide to Create a Multichannel marketing plan
Resource author: Dr. Dave Chaffey
About the author
Dr. Dave Chaffey

Dave is co-founder and content director of Smart Insights. He is editor of the 100+ templates, ebooks and courses in our digital marketing resource library created by our team of 25+ digital marketing experts. Our resources used by our members in more than 100 countries to Plan, Manage and Optimize their digital marketing.
For my full profile, or to connect on LinkedIn or other social networks, see the About Dave Chaffey profile page on Smart Insights. Dave is author of 5 bestselling books on digital marketing including Digital Marketing Excellence and Digital Marketing: Strategy, Implementation and Practice. In 2004 he was recognised by the Chartered Institute of Marketing as one of 50 marketing 'gurus' worldwide who have helped shape the future of marketing.

Individual

Business
Access this resource now
Individual and Business members get full access to this and 16 other guides in the Digital marketing strategy and planning Toolkit.
Learn more about membership
Already an Individual or Business member?
Login here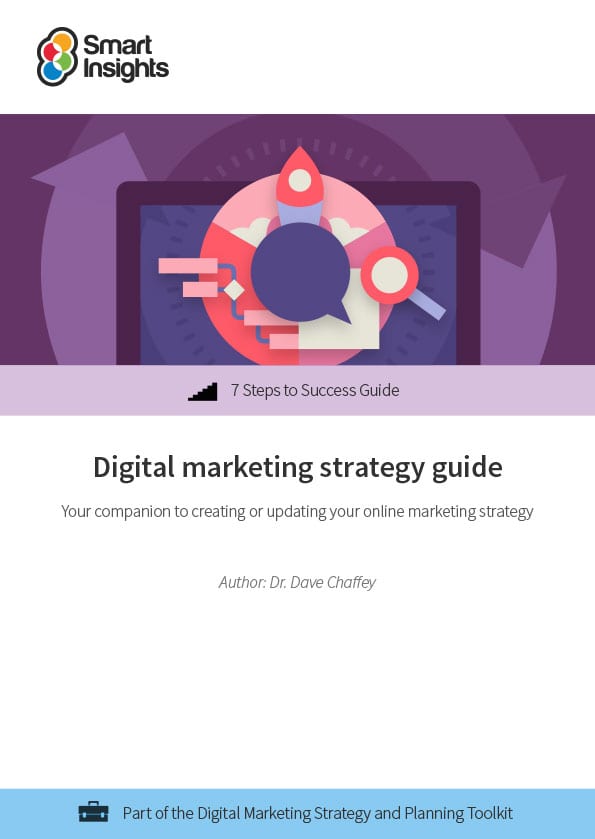 Look Inside