Create a plan to boost your leads and sales from online marketing. Without a solid roadmap to success, you'll be left behind!
Get the tools you need to create a digital marketing plan
Do you have a clear, integrated strategy for digital marketing?
Our Managing Digital Marketing research report shows that, incredibly, nearly 50% of businesses still don't have a clear digital strategy.
Lack of clarity in online marketing means that you probably don't have clear goals for digital marketing or the right KPIs to measure how well it's working for your business.
Worse still, you may be investing in the wrong tactics, so your competitors will get further ahead.
Smart Insights is here to help you
Our expertise is in helping businesses develop effective digital strategies which help them compete better.
With the Digital Marketing Strategy and Planning Toolkit, you'll learn about the biggest trends in marketing and use comprehensive strategy templates to effectively plan your marketing campaigns.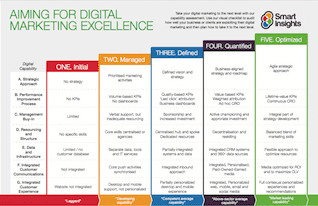 The proven system in this toolkit is a surefire way to grow your profits quickly