Review the range of skills in your team and learn how to create a Digital Marketing Centre of Excellence to improve skills
Getting the right people, structures and processes in place is tough, but if you follow these proven approaches you will maximise your chances of success.
Since marketing today changes so rapidly and gets more complex, this gives businesses with the right processes and skills an opportunity to get an edge on their less savvy competition.
It's important that you have the right digital marketing skills inside your business, but equally important you don't create silos of separate digital marketing specialists and marketers.
Our Managing Digital Marketing Teams toolkit will step you through the options for a more joined-up approach. The resources in it review alternative team structures and give you job descriptions to help you recruit and build the right types of skills.  We also show how to set up a Digital Marketing Centre of Excellence (DCoE) with 18 tips on implementation success.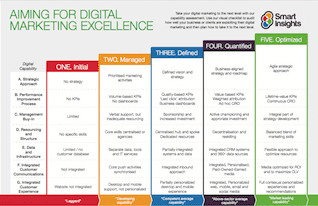 Improve the digital skills and talent in your marketing team to compete more effectively