How we help marketers in over 100 countries worldwide
Smart Insights are a publisher and learning platform that helps our members plan, manage and optimize their marketing using our downloadable planning templates, guides and interactive learning tools.
We're proud to share the exciting potential of digital marketing with 150,000 active members across 100 countries and a monthly readership of ½ million.
Our passion is helping marketers and businesses get more leads and sales from integrated digital marketing – to make the most of the great opportunities from digital transformation:
We help

individuals develop their careers and make them more effective in their roles and team by improving their marketing competencies with our premium Individual membership.

We help

businesses of all sizes in different sectors transform their multichannel marketing to improve their results from marketing by improving their marketing capabilities and governance with our premium Business membership.
We offer customized consulting and training advice to improve your digital marketing through our Digital marketing strategy consultancy and in-company marketing training courses - we've helped many businesses create or refine their digital marketing strategies or increase returns from individual channels like affiliate, email, search, social media marketing and conversion rate optimization.
We also offer free membership giving you downloads of free sample templates and guides, get regular enewsletter updates on best practices and the options to use our interactive capabililty graders and personalized learning plans.
We support martech vendors and agencies through our Content Partnerships to grow awareness and leads through our advertising and PR options.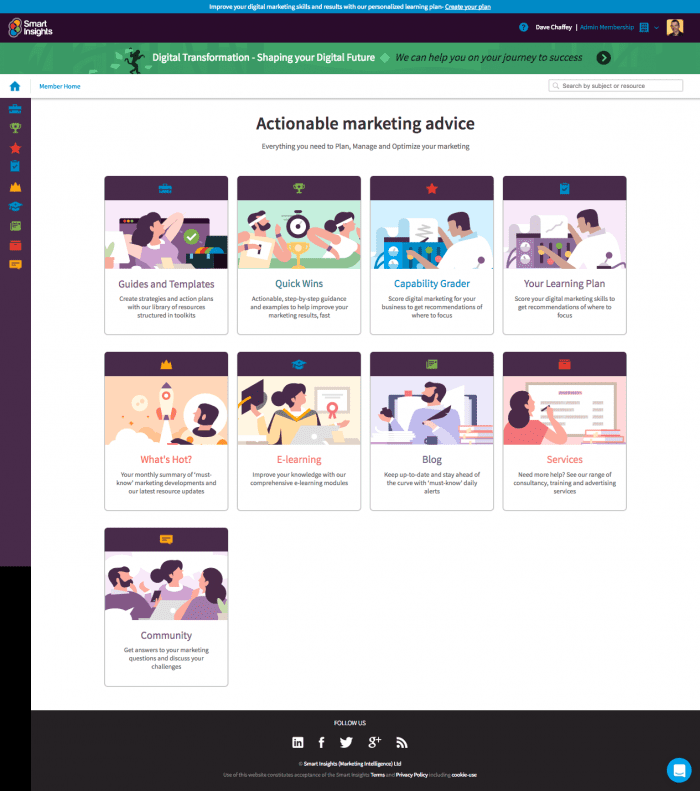 Our members' area learning platform - available to all members
 The Smart Insights approach
Our best practice planning resources
Our actionable library of marketing advice for premium members, created by 25 plus digital marketing specialists and edited by bestselling digital marketing author Dr Dave Chaffey is focused on helping business owners, marketers and digital marketing specialists improve the commercial results from using digital marketing for their company or their clients.
Our toolkits are designed to help members learn and optimize their digital marketing. Our core Digital Channel toolkits available to all paid subscribers cover these 8 core areas: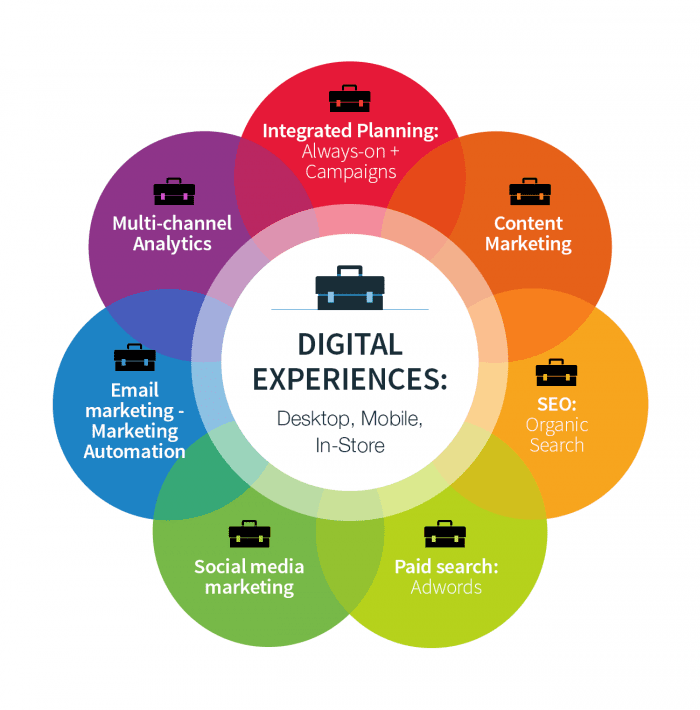 Our marketing planning and management resources
To help marketers make more of online marketing, we've created a learning platform all members can access when signed-in.
What makes us different?
These are the benefits we offer marketers and businesses:
Actionable advice - review and improve results with our practical workbooks, templates and videos  - all our content is aimed at helping businesses plan and make changes to your marketing to improve leads and sales
Data-driven improvements - we show how to use Google Analytics and the latest stats to make measurable improvements
Comprehensive and structured - 150 techniques joined up by the RACE planning framework - we keep to plain English and limit jargon as far as possible
Different ways to learn - Templates, guides and e-learning; we think it's important that you can learn and apply new ideas your way
Great value - Individual marketers can access all member resources on-demand, year-round for less than the price of a training course
The latest world-class advice - Recognised digital marketing guru Dave Chaffey has assembled a team of expert commentators  who are specialists in all the digital marketing disciplines to give you the best advice we can
Who's behind Smart Insights?
The Smart Insights team are all seasoned, active digital marketers working on projects to define and implement digital strategies for clients. We're keen to share our experiences to help others and learn more - the learning never stops in digital marketing...
The two co-founders and owners of Smart Insights are:
Dr Dave Chaffey, Content Director, a bestselling author of books on digital marketing and Ecommerce, recognised in 2004 by the Chartered Institute of Marketing as one of 50 gurus who have "shaped the future of marketing". Dave continues to speak, train and consult on digital marketing strategy with his main focus on developing member content for Smart Insights.
Stu Miller, CEO. Stu has 17 years of experience of managing web-based technology for both large companies and start-ups, with the last 11 of those creating and running internet related businesses. Prior to Smart Insights he worked as a consultant and was a co-founder of First10, a digital marketing agency. Stu now runs Smart Insights from its office in Leeds, UK.
We select our specialist Expert commentators for their in-depth knowledge and experience of specific digital channels and techniques. But comments and recommendations from members add dramatically to everyone's knowledge.

What we believe - our manifesto for today's marketing
Getting the most from the many marketing opportunities available today is challenging. In creating our new site, we want to offer advice to make a difference, so we set out how in our manifesto.
This is what drives us, what we advise, what we think is needed to be successful in today's marketing:
1. Digital marketing is Marketing.
2. You need a strategy.
3. Measurement and optimisation are the foundation.
4. Joined-up customer-centred marketing is essential.
5. Keep communications human
6. Be agile
7. Inbound marketing trumps outbound marketing
8. Engagement is the real challenge
9. Think Global, Act Local
10. Markets are conversations