Use our best practice advice on Multichannel Retail, Travel and Financial services to fuel your growth
Our sector-specific advice and examples for members who work for a retailer or other transactional e-commerce business
The increase in consumer demand for online purchases will fuel future revenue growth across all B2B and B2C transactional E-commerce sectors from retail through financial services to travel and more.
The question for you, is how will you maintain continued growth in your online and multichannel sales as your competitors improve and online competition increases?
This is where Smart Insights can help fuel the growth of your business and your personal knowledge by giving you and the marketing, trading and design teams the knowledge and skills to compete.
The resources available in our E-commerce and retail toolkit and Marketing Technology and Innovation toolkit includes sector-specific advice and examples on how to exploit digital media and technology if you work in these sectors.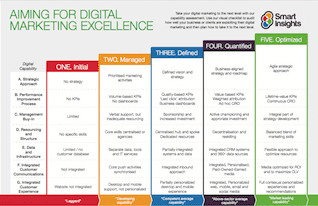 Identify where you can boost your online sales with our free capability benchmark and 10 mistakes downloads