Facebook advertising guide
A practical guide to the opportunities that exist for advertising on Facebook
How will this guide help me and my business?
You will know that Facebook is one of the most popular social networks with over two billion users and it offers tremendous reach to influence both consumers and businesses.
Yet Facebook like other social networks has updated its algorithms, so that organic reach levels are at an all time low. Brands need to pay if they want better visibility of their social updates in the newsfeeds, even to their own fans.
Brands can still set up Facebook Pages and enjoy some organic exposure free of charge, but as a platform, Facebook is now very much "pay to play". This also means that advertisers can reap the benefits that the Facebook Advertising platform can offer. For example, retargeting your messages to previous site visitors is only available via advertising.
So does this mean you need to invest a lot of money in Facebook?
No, it doesn't mean that you need to make a huge investment in Facebook advertising – it can be more cost-effective than many other promotional opportunities and offers great opportunities for targeting. With over 2 billion monthly active users, Facebook is not a platform which marketers can afford to either ignore or to get wrong.
Our Facebook Advertising Guide shows you:
The aim of this guide is to provide an overview of the opportunities that exist for Facebook advertisers. It is not intended as a step-by-step guide to creating ads and campaigns, more to look at best practice. Facebook's own online learning platform, Blueprint, provides continually updated step-by-step guidance should you need it.
Who is this guide for?
This guide is aimed at marketing professionals involved in setting media strategy including those working in:
Customer acquisition
Digital marketing
Social media
Advertising
Public Relations
E-commerce
The guide is also helpful for small and medium businesses who may want to consider the options for investing in Facebook Advertising.
How is this guide structured?
This guide follows a comprehensive 10-step structure:
Step 1: An introduction to adverting on Facebook
Step 2: What goals can we achieve using Facebook advertising?
Step 3: Targeting using Facebook
Step 4: Placement: Where and when will my ads appear?
Step 5: Ad types and what they offer
Step 6: Bid types: What are the options on bidding?
Step 7: Tools – How are ads created? Understanding the Ad Manager, Power Editor, and Business Manager
Step 8: Creative Best Practice
Step 9: Tracking and Reporting: How do I know if my ads have been effective
Step 10: Resources
Resource Details
About the authors
Rhian Harris
Rhian Harris is an online marketing all-rounder and guest blogger for Smart Insights. With over 13 years of experience of all digital media and ecommerce from utilities, travel, charity and retail sectors, Rhian now works with businesses as a copywriter, providing optimised content and strategy. IDM qualifed, Rhian is a blogger and regularly contributes to Huffington Post as well as her own lifestyle blog. You can keep up to date with her through her business, Sparkly Content.

Individual

Business
Access this resource now
Individual and Business members get full access to this and 13 other guides in the Social media marketing Toolkit.
Learn more about membership
Already an Individual or Business member?
Login here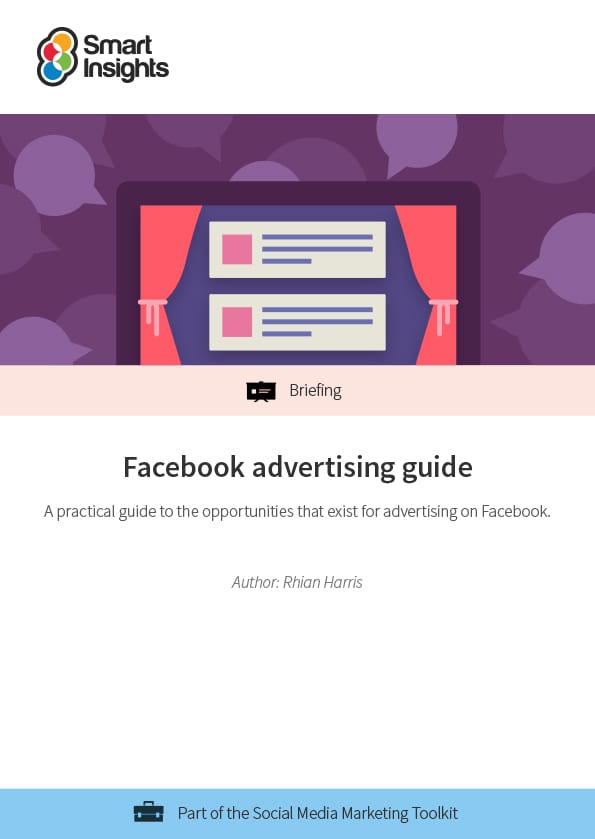 Look Inside