How to build a successful LinkedIn advertising campaign
Learn how to use LinkedIn Ads effectively so you get the best quality leads for the lowest possible cost
How will this Quick Win help me and my business?
This Quick Win is designed for B2B marketers including business owners and marketing managers who are looking to generate high-quality leads from LinkedIn but lack the know-how. If your business is dependent on appealing to different members of the buying unit i.e. people in specific companies with a specific role and demographics you've come to the right place.
It will provide you with a step-by-step approach to using LinkedIn ads to raise your profile among the key decision makers, and attract high quality leads in your niche or industry. It has been designed to help you get your advertising up, running and optimized within a number of days, and without burning through your advertising budget.
What will I learn?
You will learn how to:
Target the right decision makers and filter out any 'time wasters'
Create ads that drive your audience to desire what you offer
Manage your bidding so that you get the best quality leads at the lowest price
Optimize your campaign so that you are continuously improving your results
Effectively monitor your ad performance so you can accurately track the success of your campaign
This Quick Win guide is designed to make an immediate impact so that you have increased visibility in your target market, attract potential sales leads, and are seen as the go-to expert by your target market.
How is this Quick Win structured?
The quick win is divided into six main sections:
Understanding the LinkedIn ad formats
Setting up your ad message and creative, ensuring they're relevant to your audience
Ensuring you find the right target audience
How to set up the correct bidding for your ads
Tracking and optimizing your campaign
Additional sponsored campaigns you can run: Lead ads and video ads
About the author
Danny Bermant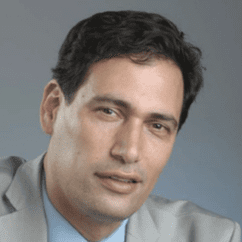 With 18 years' experience in digital marketing, Danny is one of the UK's top social media experts, helping companies generate new business through their social media presence.
He has a particular interest in the financial services and healthcare sectors, although he has worked with many other sectors too.
Danny teaches social media strategy with the Chartered Institute of Marketing and is a sought-after speaker who regularly addresses conferences on how social media can be used for customer acquisition.
He has been published widely on social media strategy, including these resources from Smart Insights: The Smarter LinkedIn Marketing Guide, The Managing Social Media Marketing Guide, The Influencer Outreach Guide – How to convert brand influencers into brand advocates, and The Video Marketing Guide.

Starter/Pro Membership is required
Business Starter and Professional members get access to this and 42 other quick wins.
Learn more
Already a Starter/Pro member? Login here
How to build a successful LinkedIn advertising campaign