Online copywriting essentials
Learn the principles behind effective online copywriting that you can apply to all content on your site
Copywriting is the backbone of marketing. From campaigns and headline copy to whitepapers and product details, the ability to write well is essential because it allows you to achieve the central objective of marketing – communicate your offer to a customer.
In this Quick Win you'll learn the core principles of copywriting that you can apply to all types of content you create, from blog posts and landing pages to social media updates and ads.
What will I learn?
How to structure your content and use different types of headlines
The importance of using declarative statements to steer your customers' behaviour
How the serial-position effect can help you structure bullet-pointed lists
How to promote extra value to readers to entice them to buy
The inverted pyramid structure of copywriting
Some of the most common copywriting errors and how to avoid them
How it this Quick Win structured?
Our guidance is structured into these five sections:
Informative copywriting
Persuasive copywriting
Customer-centric copywriting
Boosting readability
Avoiding common errors
About the author
James Story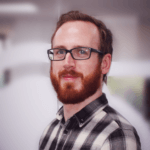 James Story is Senior Content Manager for Lead Tech, a financial lead generation company providing high-quality leads for financial advisers and financial advice firms. He is a University of Leeds graduate and has spent over five years creating content for online PR, SEO, and digital marketing activities.

Individual

Business
Access this Quick Win now
Learn more
Individual and Business members get full access to this and 55 other quick wins.
Already an Individual or Business member?
Login here
Online copywriting essentials