B2B marketing automation best practices guide
Learn best practices for implementing B2B Marketing Automation to improve lead generation and nurturing
How will this guide to marketing automation help me and my business?
Marketing Automation is a relatively new category of marketing technology combining CRM, Email marketing, lead scoring, personalisation and analytics. Our guide explains exciting opportunities to deliver more relevant and timely communications to prospects which nurture leads and boost response. This guide has been updated in 2016 to focus on B2B, you can view our other marketing automation guide with more consumer examples here.
How is the guide structured?
Explanations of marketing automation concepts
Recommendations on requirements to review
Best practice tips for implementing marketing automation
B2B examples of lead scoring, grading and nurturing
Research from a range of studies to highlight the potential and challenges of implementing marketing automation software
What does the marketing automation guide cover?
This guide to marketing automation best practices will help you review your requirements for marketing automation, understand best practices and select the best vendor by answering these questions:
What is marketing automation?
What are the commercial benefits marketers gain from marketing automation?
What are the key features across 7 key functions of marketing automation?
How can we score leads?
How should we nurture our leads to convert more to sale?
Which criteria should I use to selection the best marketing automation vendor?
Resource Details
About the authors
Adrian O'Gara is a specialist in lead and funnel management — from sales and marketing alignment to process optimisation and automation. As founder and lead consultant at OGaraCo, the lead-to-revenue experts, Adrian helps B2B technology and service providers improve lead quality and velocity to increase marketing sourced revenue and ROI. Find out more at ogaraco.com or connect with Adrian LinkedIn
Jordie van Rijn has more than 13 years of hands-on experience as an independent email marketing consultant. Next to helping companies improve their email marketing results he gives email marketing training and is a writer and speaker in the field of online marketing. You can visit his website emailmonday or connect with him on LinkedIn.
This guide was published in September 2016.

Business Membership is required
Access this resource now
Business members get full access to this and 10 other guides in the Business-to-business marketing Toolkit.
Learn more about business membership
Already a Business member? Login here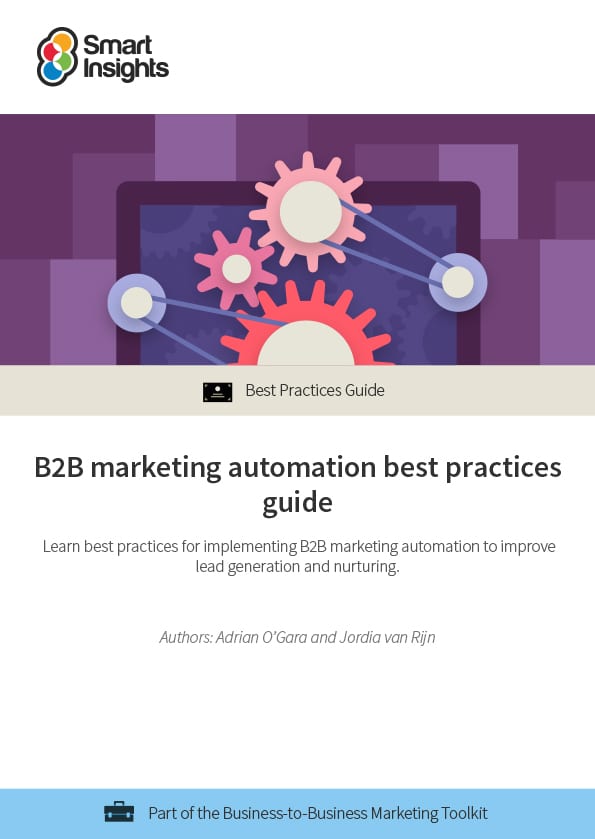 Look Inside