Managing Digital Transformation Guide
Create a roadmap to implement digital transformation
How will this guide help me and my business?
Our research shows that many businesses have implemented or are planning digital transformation programmes to take advantages of the opportunities of digital media and technology to increase sales.
The latest research shows that early 8% have had a digital transformation in place for longer than two years and 21% have just started. Over 3 in 10 (33%) are preparing to start their digital transformation program.
This practical guide was created to support our Business members throughout the digital transformation process. It's clearly structured in seven sections to step you through the process of initiating and running a digital transformation programme.
Who is this guide for?
This guide is for senior marketing managers, CMO's and CEO's mainly in large organisations that are working to transform their approach to become more digitally focused.
For a shorter briefing, start with our Digital Transformation Playbook structured around the 25 key digital marketing activities defined in our RACE Digital Marketing Planning framework
How is Managing Digital Transformation guide structured?
The guide is structured to help step you through the process of reviewing current approaches, making the case for change and investment and then managing this change. The 7 recommended steps for digital transformation are:
Step 1. Proving the need and making the case for transformation
Step 2. Benchmark current digital marketing capabilities
Step 3 Define the best structure digital marketing activities and process
Step 4 Define resourcing requirements
Step 5. Change processes to support digital integration
Step 6. Manage change for digital transformation
Step 7. Optimising performance across integrated channels
Resource Details
Guide format: The Managing Digital Transformation Guide will give you a 60+ page PDF Ebook drawing on Smart Insights checklists and models plus models compiled from other analysts and consultants. 
Recommended related resources: For a shorter briefing, start with our Digital Transformation Playbook or Creating a Digital  Marketing Centre of Excellence in our Managing Digital Teams toolkit and our managing change management guide.
About the authors: This guide was produced by digital transformation consultants Dave Chaffey, Sophia Ahrel and James Carson. This guide has also been updated by Sarah Cowman.

Business Membership is required
Access this resource now
Business members get full access to this and 7 other guides in the Managing digital marketing transformation Toolkit.
Learn more about business membership
Already a Business member? Login here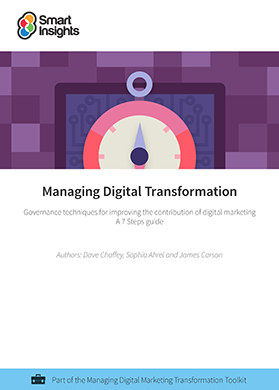 Look Inside