Social media marketing strategy guide
Create a plan to manage social media marketing to support your commercial goals
How will this guide help me and my business?
Today, many companies are using social media tactically by posting updates to Facebook, Instagram, LinkedIn, or Twitter. But few have a social media strategy which helps them use social media to support their business goals. Social media works best when it's part of an integrated E-communications strategy where Social media works together with Search, Email and Content marketing.
Our social media strategy guide will help you create an integrated social media marketing strategy which shows you how to increase engagement to boost leads and sales using the social networks. Our social media strategy guide shows you:
Setting goals for ROI and performance from social media marketing
How to create an integrated social media marketing strategy
The tools and techniques to start a social listening programme
Social media governance including reputation management and social media support
Practical "how-to" advice on getting more from Facebook, LinkedIn, Twitter and YouTube"
Workbook format makes it quick to review and decide on the changes you need to make to improve your online marketing results.
Who is this guide for?
This guide is for anyone who believes they needs a more strategic approach to social media by better aligning their their social media strategy with their marketing goals. Typical readers include:
Marketing managers and digital marketing managers
Social media marketing managers and Execs
 How is this guide structured?
Our guide is structured around PR Smith's SOSTAC® Planning System to help you rapidly create or review a social media strategy in these 7 steps:
Introduction: What is Social Media Marketing and Social CRM?
Step 1: Benchmark and set business goals for your social media strategy
Step 2: Create your social media strategy
Step 3: Social listening and online reputation management
Step 4: Define content and engagement strategy
Step 5: Define communications strategy
Step 6: Define approaches for the core social media platforms
Step 7: Social media optimisation (SMO)
Resource Details
About the author
Rhian Harris

Rhian Harris is a copywriter and blogger helping businesses with content for their marketing collateral. Starting out in the shiny new digital world in 2004, Rhian gained experience in all areas of digital media and e-commerce, working in utilities, travel, charity and retail sectors.
IDM qualified, Rhian is an online marketing all-rounder with a passion for words. She is a regular expert commentator for Smart Insights as well as other expert sites, as well as her own business Sparkly Content and her personal blog, From Tum To Mum.

Individual

Business
Access this resource now
Individual and Business members get full access to this and 14 other guides in the Social media marketing Toolkit.
Learn more about membership
Already an Individual or Business member?
Login here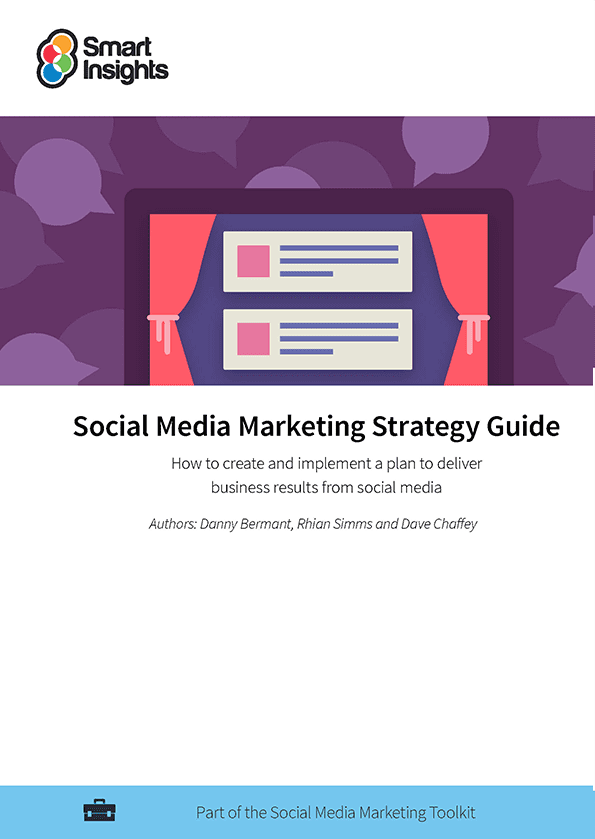 Look Inside