Value: [rating=4]
Recommended link: 2015 CRM Market Index Report - A Complete Analysis of Market Leaders CRM (registration required for this free report)
Finding the right CRM vendor can be a minefield since there are so many to choose from and selecting the right CRM system is a major long-term investment and commitment. Procurement activities can include auditing your internal requirements and current CRM; building your business case for capital; writing your CRM specifications; in many cases going through a tendering process (depending on the capital investment and more likely for the public sector); then shortlisting and choosing your vendor.  All that effort can take up to 18 months for some companies even before the CRM partner has been selected..
In the past, we have shared CRM and MA posts on how to plan for your right system according to the needs of your business and evaluate your suppliers, along with sharing some of our members views on CRM systems which have been based on their user experience. This is the first time that an in-depth report has been commissioned to look at a wide range of CRM vendors and could save you time if you are you looking for a new system or to change your current CRM.
In this post we're alerting readers to The IA Technology Advice review of over 100 vendors which they have narrowed down to their top 24 companies.
Out of these - SalesForce Sales Cloud ranked 1st in the market index and Infusionsoft in the top for service and support.
These vendors may not be right for every company, as it depends on your individual business requirements, the budget, the software/systems which you currently have which require integration and the list goes on..but the report is an invaluable resource as the groundwork has been done for you. Their assessment of the vendors evaluated customer satisfaction, support, market presence and utility - assessing not only the vendors, though over 700 companies.
These are the top 15 CRM Vendors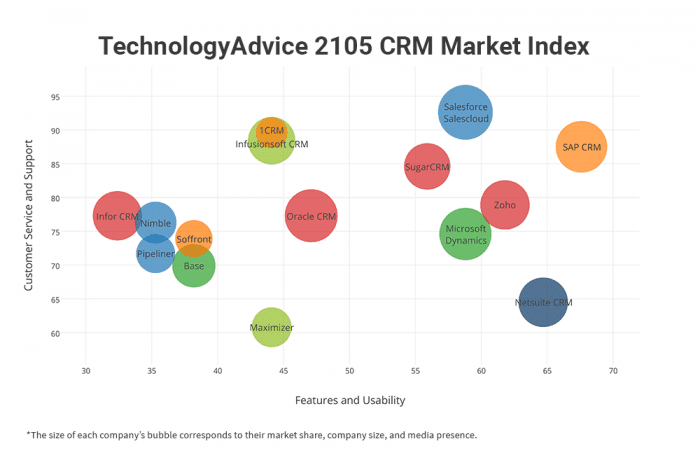 You can access the free report for full findings with a breakdown on each CRM Vendor.