Recommended Expert member digital marketing resources to help you develop your personal knowledge and career
Our resources are structured in 18 Toolkits which you can access from Member Home when signed-in. We recommend you start by selecting the relevant toolkit since you can:
Score your capabilities in 9 key area and get recommendations on where to focus
Complete an Elearning module for each of 9 topics
Access all relevant resources grouped by topic
To help you improve your personal knowledge of digital marketing, we recommend these resources. Which work best for you personally will depend on your learning style and the time available, do you...
1. Want to broaden your knowledge of digital marketing through a short online course?
If you're an individual seeking to get a broader and deeper knowledge of digital marketing, perhaps in order to get a job or improve your career prospects, we recommend you start with our online course based on our RACE Planning framework.
It has 17 modules you can work through in around a month, in any order with a simple quiz at the end of each module to test your knowledge. When you complete the qualification you will be able to print the certificate to show you have completed the course.
If you're considering the type of jobs to go for in your future career, then check out our digital job descriptions guide.
2. Want to quickly get an overview of what's involved with creating a digital strategy?
If you prefer not to work through the course we have three alternative downloads which give you an overview of digital marketing:
Dave's guide explains how to create a digital strategy linking through to other Smart Insights resources, while Paul's guide gives a more personal view with examples of how to create a digital plan.
Annmarie's guide will help if you're a digital specialist, but want to learn about the fundamentals of creating a marketing plan for a business.
3. Need to learn more about specific digital marketing channels or techniques?
Perhaps you're not interested in the big picture, but instead you want to get a more detailed understanding of one channel or technique. We have best practice guides to all the main digital marketing channels and how to apply analytics and improve websites.
For other topics around digital we recommend you use this interactive digital marketing strategy framework we use to structure our advice at the top-level - click on the activity you're looking to learn more about to visit the hub page.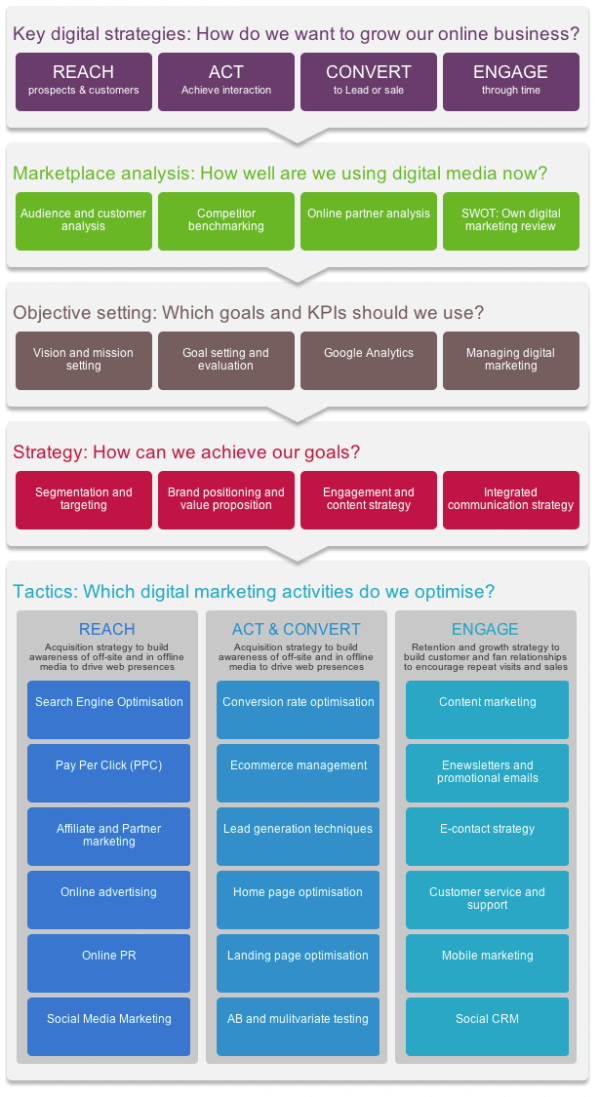 Not what you're looking for?
Browse or search the full digital marketing library or please contact us if you have any questions about content you're looking for?
Check our recommendations for resources to help businesses get results from digital marketing.