Introducing RACE: a practical planning framework to improve your digital marketing
We created RACE to help digital marketers plan and manage their activities in a more structured way. It was inspired by our research, which revealed that many businesses don't have a marketing strategy or digital plan. We show how you can simplify your planning, measurement and reporting through RACE Planning in our paid member resources, for example, our digital marketing e-learning, workbook and 90-day planning.
In these resources, edited by our co-founder Dr Dave Chaffey, we break RACE down into 25 key multichannel marketing activities that we recommend every business works on to get the most from the opportunities for digital marketing
You can find more details about applying the RACE Framework to quickly create marketing plans in our FREE RACE internet marketing template. It is used by our paid members to create digital plans using our Digital Strategy Toolkit.
Our infographic defines RACE and shows the key measures to set targets for and evaluate at each stage of the funnel.
What does RACE planning stand for?
The RACE mnemonic summarises the key online marketing activities that need to be managed as part of digital marketing. RACE covers the full customer lifecycle or marketing funnel from:
(Plan) > Reach > Act > Convert > Engage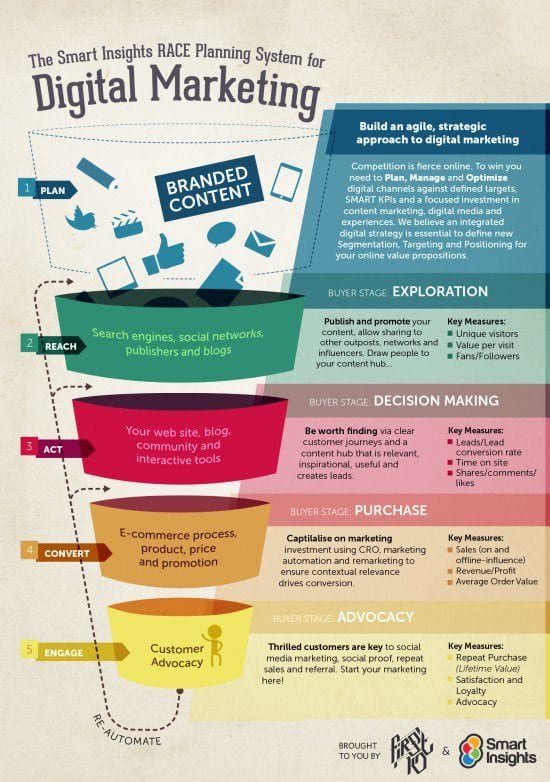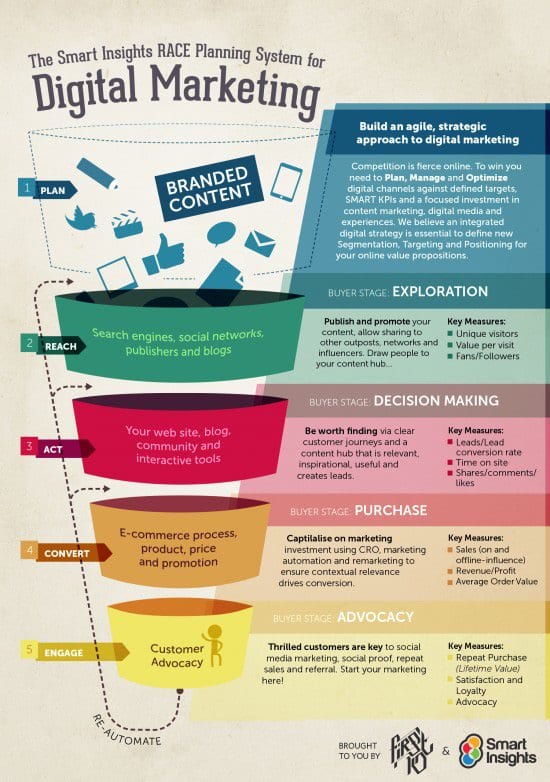 RACE consists of these four steps or online marketing activities designed to help brands engage their customers throughout the customer lifecycle.
1. REACH
Reach involves building awareness of a brand, its products, and services on other websites and in offline media in order to build traffic by driving visits to different web presences like your main site, microsites or social media pages. It involves maximizing reach over time to create multiple interactions using different paid, owned and earned media touchpoints.
2. ACT
Act is short for Interact. It's a separate stage since encouraging interactions on websites and on social media to generate leads is a big challenge for online marketers. It's about persuading site visitors or prospects to take the next step, the next Action on their journey when they initially reach your site or social network presence.
For many types of businesses, especially B2B, this means generating leads, but it may mean finding out more about a company or its products, searching to find a product or reading a blog post. You should define these actions as top-level goals of the funnel in analytics. Google Analytics Goals can include "Viewed product", "Added to Basket", "Registered as a member" or "Signed up for an e-newsletter".
Act is also about encouraging participation. This can be the sharing of content via social media or customer reviews (strictly, part of Engage). The specific goals and dashboard need to be defined for each business as explained in our Delivering results from digital marketing guide. It's about engaging the audience through relevant, compelling content and clear navigation pathways so they don't hit the back button. The bounce rates on many sites are greater than 50%, so getting the audience to act or participate is a major challenge, which is why we have identified it separately.
3. CONVERT
This is conversion to sale. It involves getting your audience to take that vital next step to turn them into paying customers whether the payment is taken through online e-commerce transactions or offline channels.
4. ENGAGE
This is a long-term engagement that is, developing a long-term relationship with first-time buyers to build customer loyalty as repeat purchases using communications on your site, social presence, email and direct interactions to boost customer lifetime value. It can be measured by repeat actions such as repeat sale and sharing content through social media. We also need to measure the percentage of active customers (or email subscribers) and customer satisfaction and recommendation using other systems.
We also use RACE to benchmark marketing effectiveness – our FREE digital marketing benchmark templates are available to everyone and use the RACE Planning Framework to help businesses benchmark from basic lifecycle to optimized lifecycle marketing.
Use our RACE framework to discover your ability to Plan, Reach, Act, Convert and Engage
Two years ago we launched our FREE interactive marketing benchmarking tool to help free and paid members rate their 'digital readiness' for digital marketing as a whole and for the key channels like search, social media, and email marketing.
It has proved popular as it helps members score where they are now and then gives recommendations on how to improve in the future. So in our UX members refresh – we have made it more prominent and put all the benchmarking tools in place. We also renamed it the 'capability grader'.
To view all the changes, read our article on our upgraded interactive capability grader using our RACE planning system.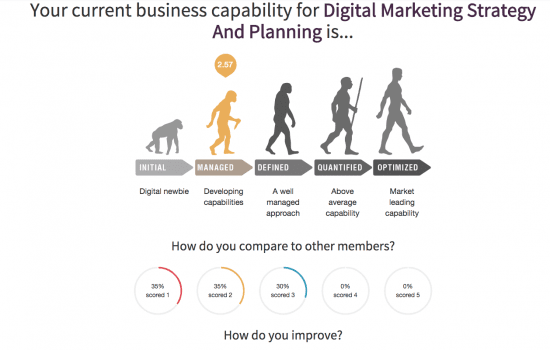 Customer lifecycle model with the RACE planning system
We have applied our RACE planning framework to many customer lifecycle models to show how 25+ different marketing, advertising, user experience, and customer support related activities are all integrated with offline and online marketing, paid, owned and earned media, and the use of AI and machine learning across all marketing activities.