90-Day Planning templates for Marketing
Our 90-day planning template gives you a structure to improve and optimise your digital marketing
What does the template include
This template is in two parts with tables for mapping:
1.  Your objectives for the next 90-days against marketing activities
This table helps companies focus on activities which boost sales through optimization activities that should be completed every month, but after often neglected due to a focus on campaign activities like price promotions which are planned separately.
The aim is to give a single page summary of SMART objectives which gives clarity on a manageable number of initiatives you will work on in the 90 day period to boost performance.
2. Commercial 90-day planning defining targets for KPIs
This table gives an example of a simple conversion model which helps give you a commercial focus on specific objectives for each quarter. This shows how your campaign and always-on activities will improve sales.
Annual marketing or digital marketing plans are a regular part of the annual budgeting process.  But annual plans have the weakness that they don't readily translate to operational plans that can be used to manage and project plan different marketing activities. This is where 90 day or quarterly planning can help. It's a "half-way house" between annual planning and weekly or monthly operational planning.
These simple templates show how you can manage continuous improvements to your marketing and 'always-on' digital marketing by focusing on defined activities across the Smart Insights RACE customer lifecycle.
Resource Details
Author: Chris Soames of First10 and Dave Chaffey
Format: 5 page A4 Word document structured around the Smart Insights RACE planning framework with examples for you to amend to create your plans

Individual

Business
Individual or Business members get full access to this and 18 other guides in the Digital Marketing Strategy and Planning Toolkit.
Learn more about membership
Already an Individual or Business member?
Login here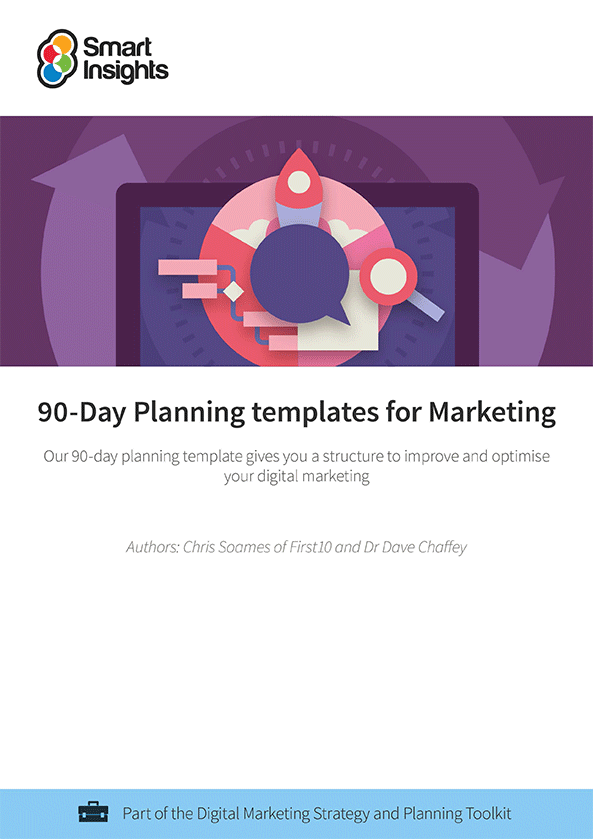 Look Inside