Dr Dave Chaffey is the co-founder of digital marketing advice platform Smart Insights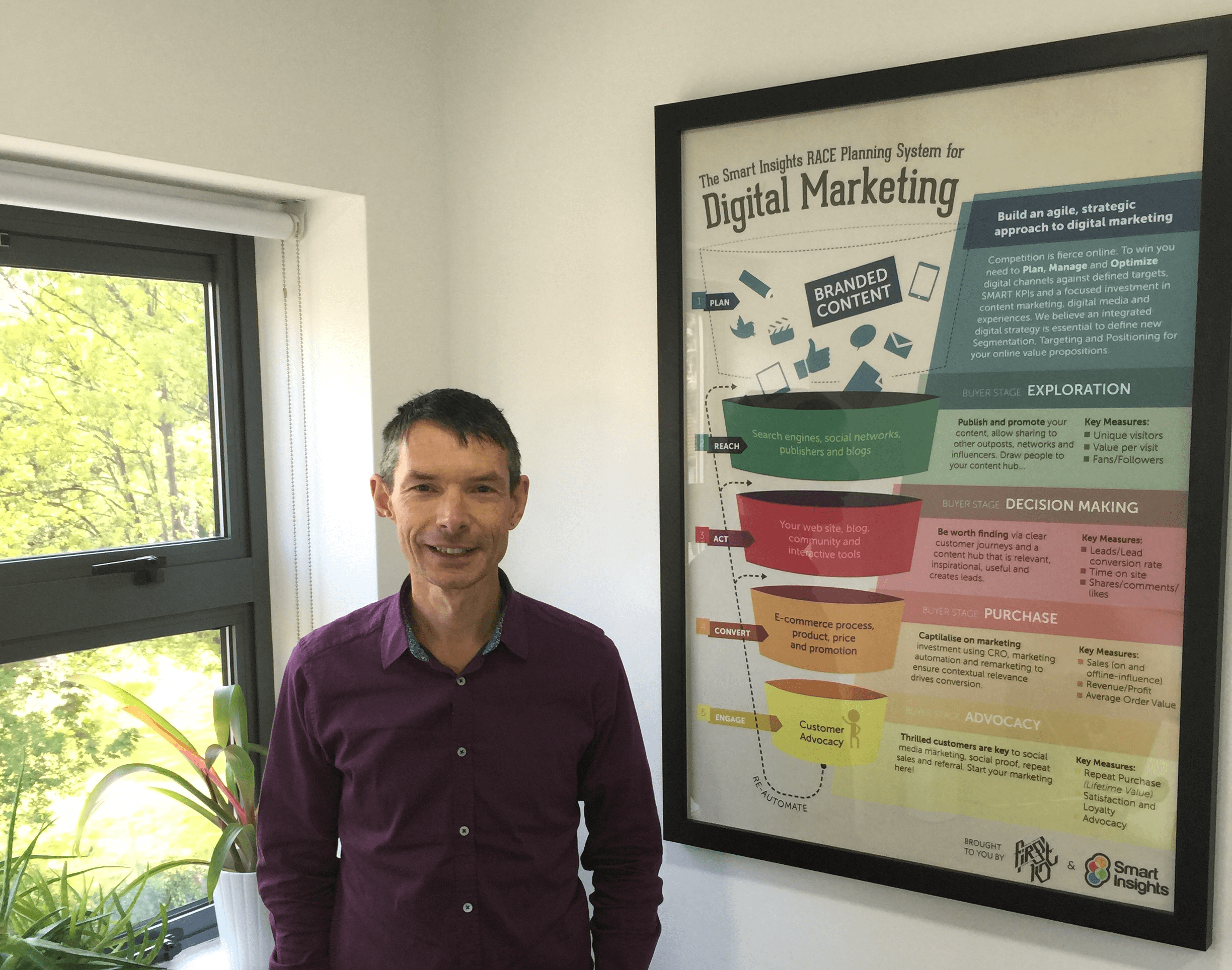 Since Dave started training and consulting on digital marketing he has enjoyed sharing his passion for how to best apply digital media and technology for marketing with business professionals and students.

Dave gave his first training course on online strategy for the Chartered Institute of Marketing in 1997, created his first site in 1998, wrote his first book, Internet Marketing: Strategy, Implementation and Practice in 2000 and he has specialized in helping individuals learn best practices and businesses improve their ROI from these exciting, dynamic channels ever since.

Known for his strategic, but practical, data-driven advice, he has trained and consulted with many business of all sizes. These include large B2B and B2C international brands including 3M, BP, Barclaycard, Dell, Confused.com, HSBC, Mercedes-Benz, Microsoft, M&G Investment, Rentokil Initial, O2 and Royal Canin (Mars Group).
Our self-service digital marketing advice
Today, on the Smart Insights site, thousands of members from over 100 countries around the world use our library of digital marketing resources.

Some templates are available with Free membership and others like those below are for premium members only.  These give far more detail, actionable recommendations and examples than possible in any traditional book.

Our advice is structured using the RACE Growth System, which Dave developed through consulting with many businesses, and provides a comprehensive multichannel marketing framework that can be applied to all types of business.

Our Top 10 most popular Smart Insights premium member resources which Dave has written or edited are:
Connect with Dave Chaffey
To share updates and ideas on the latest in digital marketing, or to ask a question, feel free to connect with Dave on LinkedIn.
Dave's books on digital marketing
Dave Chaffey is the author of five successful business books including Digital Marketing: Strategy, Implementation and Practice; Digital Business and E-commerce Management, Digital Marketing Excellence and Total E-mail Marketing. Dave's books are regularly updated, some are in their seventh or eighth editions and are used worldwide including Chinese, French, Dutch, Germany, Serbo-Croat and Italian translations.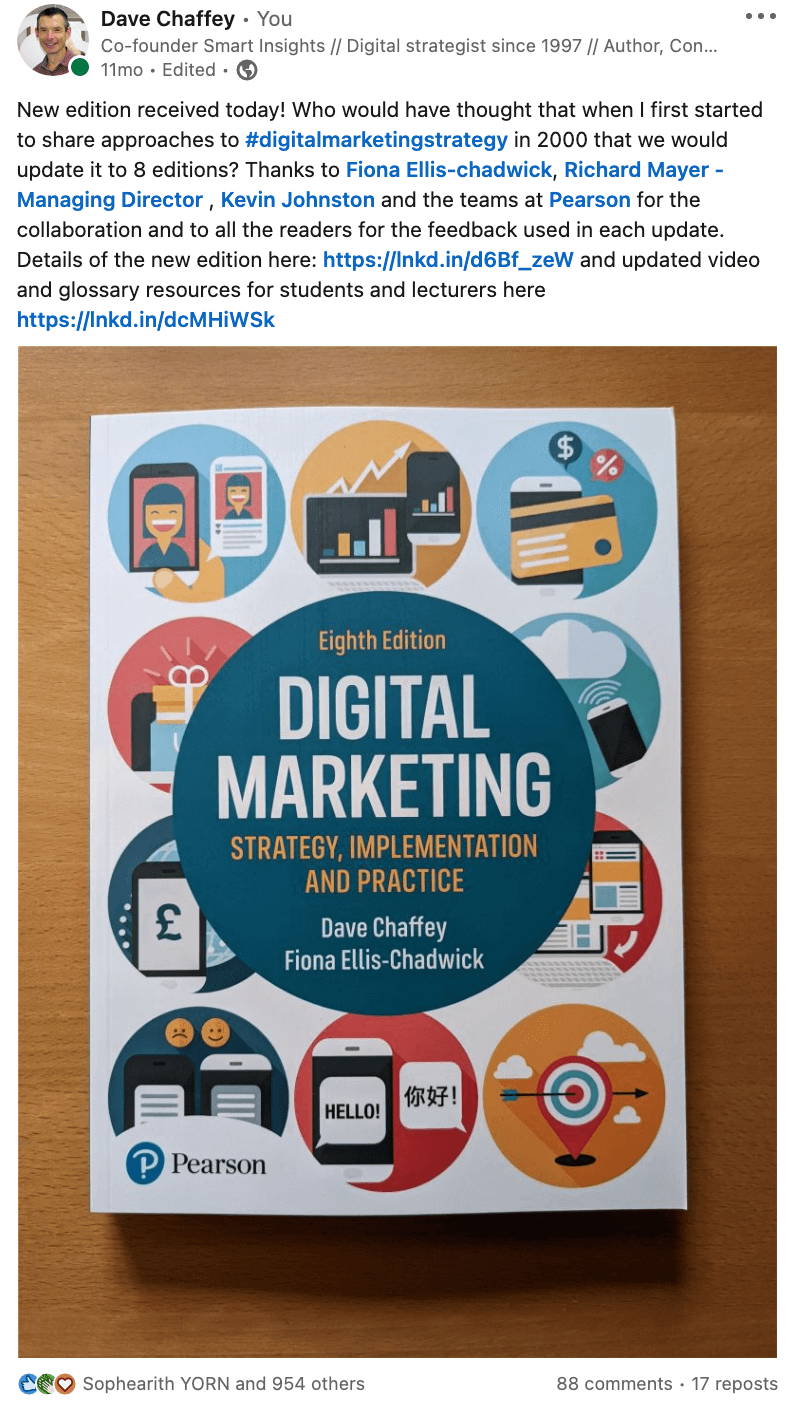 Dave also has a personal book support blog where he writes about the latest digital marketing innovations to support students studying digital marketing.
Accolades
Dave was been recognized by the Chartered Institute of Marketing in 1996 as one of:

"50 marketing 'gurus' worldwide who have shaped the future of marketing".

Dave is also proud to have been recognized by the Department of Trade and Industry, NOP World and E-consultancy as one of the:

"Top 100 hundred people commended by the industry as key influencers and drivers, who have driven the development and growth of e-commerce in the UK over the last ten years".

Jim Sterne, Internet marketing pioneer, Jim Sterne, chairman of the Web Analytics Association and organizer of the annual E-metrics summits comments:

"Dave layers a keen understanding of marketing with in-depth technical and heuristic knowledge about doing business on the Internet. Top-down or bottom-up, Dave has an astonishing grasp of strategy as well as tactics".
Other marketing experience
Between 1988 and 1995, Dave worked in the industry as an account manager for several companies delivering business intelligence solutions for companies such as Ford Europe, WH Smith and the Halifax. He has also worked for three digital marketing agencies including ClickThrough Marketing where he is Insights Director.

Between 1995 and 2001, Dave was Senior Lecturer at the University of Derby where his research specialism was approaches to measuring and improving  digital marketing performance. He was involved in the development of two of the first e-business-related university programmes in the UK: a BA in Internet Marketing and the MSc in Electronic Commerce.

Dave also taught on postgraduate MBA and MA Marketing Management Programmes and has lectured at this level in a range of business schools including Birmingham University Business School, Cranfield School of Management, Leeds University Business School and the University of Warwick.

Outside of work, Dave enjoys unwiring by fell running, orienteering, indie guitar music and travelling.
Contacting and learning from Dave
To receive my updates discussing the latest digital trends, feel free to connect on  LinkedIn.