Research and use the best marketing tools to help you optimize your online marketing channel.
The biggest challenge any marketer can face is choosing the right tools for each digital channel and technique. Having the right set of digital marketing tools or software behind you is vital for data insights, reaching potential customers, delivering content and messaging across all platforms, converting audiences and engaging them further.
Having insight tools in place for each section of Smart Insights' RACE Planning Framework across the buyer lifecycle is vital for brand awareness, conversions, and customer engagement. With the plethora of tools readily available it's difficult to know where to start.
We aim to make it easier for you by providing a range of free and paid tools that can help streamline your digital marketing strategy and understand all the data that is presented to you.
For a more in-depth comparison review, check out our FREE essential digital marketing tools guide, which offers a preview of our 200+ page premium guide. This shows 30 categories of digital marketing tools you should be using for your marketing. Our guide also recommends the top five tools in each category, provides separate tools for auditing your martech stack and recommends a process for martech selection.
Have you seen our Essential Digital Marketing tools infographic?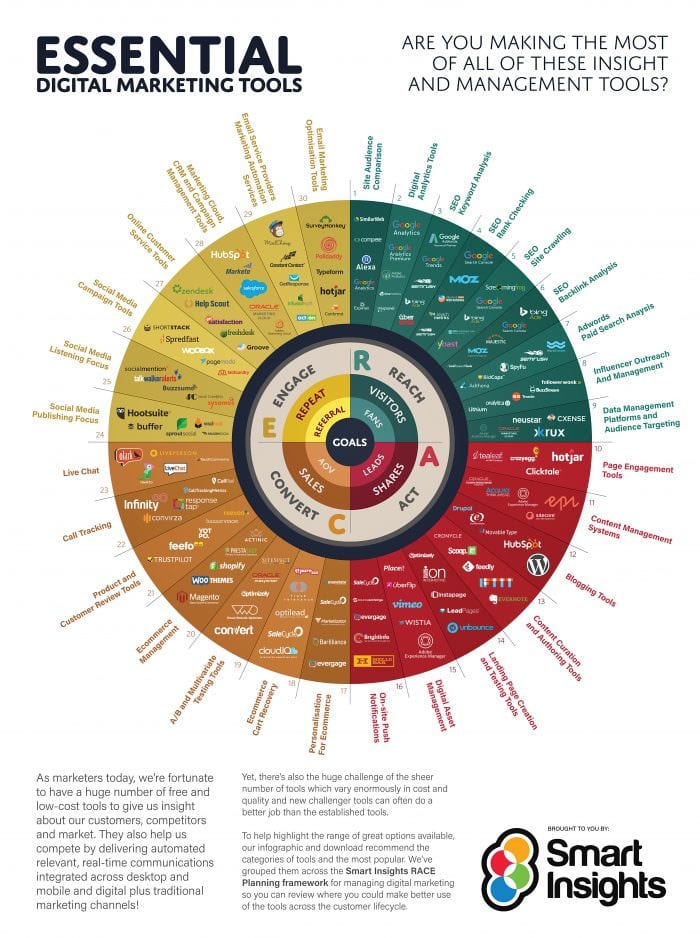 Our Essential digital marketing tools visual helps you chose between the best tools on the market for each section of digital marketing across the customer lifecycle journey.
Choosing the right tool is vital for collecting the data your business needs to benchmark its effectiveness against competitors.