Marketing Technology Selection Guide
Our recommendations on 150+ marketing technologies across 30 categories
As marketers today, we're fortunate to have a huge number of options for marketing technology services to give us insight about our customers, competitors and market. These online services also help us compete by enabling our businesses to communicate with our audiences with automated, relevant real-time communications integrated across desktop and mobile and digital plus traditional marketing channels!
Success in acquiring new customers through digital marketing goes to the businesses who are most successful in exploiting the main inbound marketing channels to get visibility and leads. These channels include search, social media and email marketing, all fuelled by content marketing.
There are also many great services available to improve the online customer experience of websites, mobile apps and emails to help boost conversion and develop customer loyalty.
Digital marketers are fortunate since, although using these channels is really competitive, tools are available to improve targeting and review and improve the effectiveness of online campaigns. However, there are SO many tools in different categories it can be difficult to know which are available and which offer the best features.
So, where do you start when deciding on the best types of services to use? There's a challenge with the sheer number of tools which vary enormously in cost and quality and new challenger tools can sometimes do a better job than the established tools. Larger businesses and brands will require 'enterprise' services with a full-feature set which can be used across teams and smaller businesses will be looking for simpler, lower-cost or free services.
This guide will help you harness the power of the available digital tools since it recommends:
More than 30 categories of tools you can compare your 'marketing stack' against
5 main tools in each category ranked in order of value – plus other recommended tools to consider in each category
An audit tool for reviewing your current martech to identify the gap between what you have now and what you will need in the future
Tools across the full customer lifecycle to acquire, convert and retain customers
Resource Details
About the authors
The Smart Insights Marketing team have produced this guide. Thanks to Dave Chaffey, Pat Kelly, Robert Jones, Robert Allen, Kim Greenop-Gadsby and Jessica Wade.
What's inside?
Use the guide to discover the best tools to use across categories.
Within each category, we have ranked services in this order based on
Most popular tools by volume of usage

Lower cost and free tools ranked first with best cost/benefit for small and mid-size businesses

Services we have used and rate

Other tools and services we also recommend

Business Membership is required
Access this resource now
Business members get full access to this and 8 other guides in the Sector technology innovation Toolkit.
Learn more about business membership
Already a Business member? Login here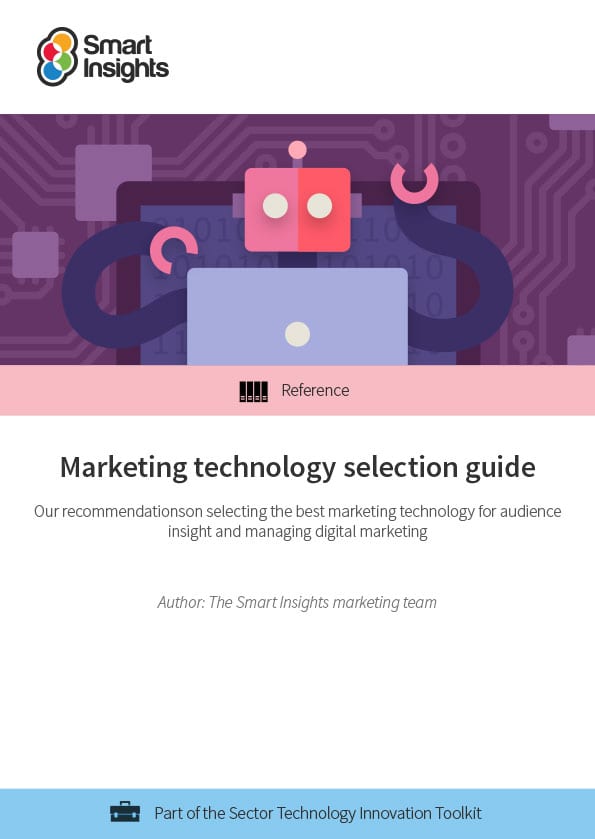 Look Inside