Upskill yourself and your team to help drive better business performance and ROI
Helping marketers develop their digital marketing skills. Upskill yourself and your team with step-by-step guidance you can use again and again. Get your team up to speed with comprehensive e-learning to help drive performance and ROI.
Knowing the latest benchmarks and innovations within digital marketing is a must – but also having the knowledge and skills to implement new technologies, software and campaign planning is just as vital. At Smart Insights we have a huge library of digital marketing resources to upskill yourself and your team to become great marketers.
Alongside detailed guides, quick checklists, audit spreadsheets, and templates, we also offer all our members (free and paid) a personalized learning plan to help benchmark their skills, which then gives recommendations on what areas/channels/ tactics need to be improved. Premium members will then have unlimited access to additional learning materials relevant to the skills they need to improve.
Our personalized learning plan is a great member's tool which helps identify gaps in knowledge and help improve digital marketing for you and your business. It gives tailored recommendations across the RACE planning system to make sure you get the most out of all our resources and know exactly where you need to improve.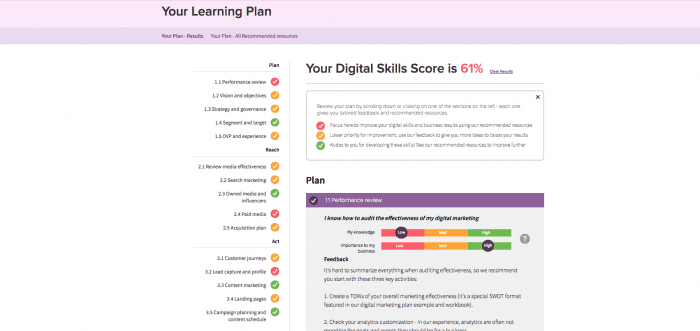 We also have a capability grader which helps benchmark business performance and suggest recommendations for improve for a range of channel marketing.