Assess your digital marketing maturity with Smart Insights
If you're looking to assess your business' digital marketing capability, I recommend first reviewing our six pillars of
effective digital marketing
, which allow you to
structure your assessment
across:
Planning and governance

Goals and measurement

Media

Content

Experience

Conversational messaging
If you are familiar with your company's current digital marketing performance across these areas, you can begin to identify areas of maturity/immaturity across
each pillar of your marketing strategy
.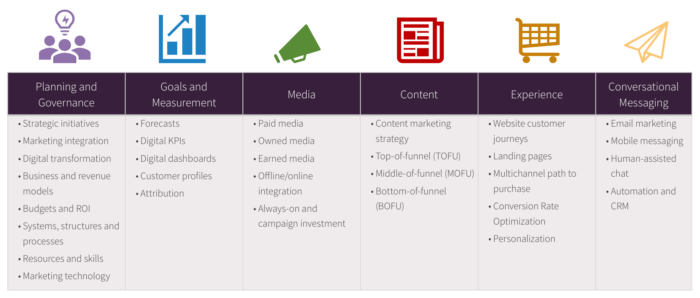 Depending on the size and scope of your organization, you may approach assessing digital marketing capability
needing different tools
, both in terms of internal auditing, and external benchmarking. You'll see our full list of recommendations below.
Join Smart Insights as a Free Member for instant access to our:
In less than 5 minutes, you'll calculate your digital marketing capability grade. You can use this to compare your score to other Smart Insights Members, and to track your progress.
Identify free and paid resources to help you improve your marketing skills and put an action plan into place to skill up in the areas of digital marketing that matter the most for your growth.