Free Digital Marketing Benchmarking Templates
Audit digital marketing effectiveness in your business and plan how to improve
How will these free benchmarking templates help me and my business?
Whatever the size of your business, 'How do we compare to our competitors?' and 'What does good or excellence like?' are common questions when companies are looking to get more from their digital marketing. Great questions! But how do you know what to compare and how can you structure your review and recommendations?
These powerful one-page templates let you quickly review how well you are currently using the key digital marketing techniques on a 5 point scale for different criteria and so identify the gaps in your current capabilities.
These templates edited by Dr Dave Chaffey and our expert commentators will help you:
Compare how well you are currently using the key digital marketing techniques
Identify the gaps in your current capabilities
Communicate priorities for improvement to your teams or budget-holders
Create a plan of how you need to improve
What are the digital marketing benchmarks?
Our benchmark templates use the 5-point scale of the Carnegie Mellon capability maturity model which rates different processes from an unmanaged approach as you start out at Level 1 up to a well-managed process at Level 5.
The benchmarks cover:
Digital Transformation assessment
Integrated lifecycle marketing using the Smart Insights RACE planning framework
Digital Analytics
Marketing campaign planning
Email Marketing and marketing automation
Online Customer Experience
SEO Capability
Social Media governance
Influencer relationship management
International marketing - website localisation and translation
E-commerce
Marketing agency services
Who are the benchmarking templates for?
The templates will help marketers who are responsible for managing and improving the business contribution from digital marketing as a whole, or specific channels like search or email marketing.
How are the benchmarks structured and how do I use the capability reviews?
Complete a comprehensive digital marketing audit by score your business (or your clients) from Level 1 to Level 5 for the different 'best practice' activities you are using for each of the core processes we have defined as each row.
Once you know where you are currently at you can focus your efforts to improve. Use our guides to increase your skills and understanding in the key areas identified by the templates.
Resource Details
Authors: Created by Dave Chaffey and reviewed by sector specialists
Format:  12 page A4 PDF with capability reviews for most of the main areas of digital marketing.
Recommended premium member resource: Digital Marketing Audit – this Excel spreadsheet enables you to complete a more detailed review of your digital communications and experiences. It's structured using the 25 key activities of the Smart Insights RACE planning framework.
Example: Download latest version for full-size landscape printing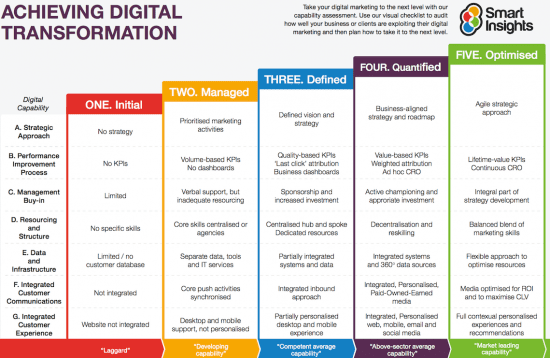 About the author
Dr. Dave Chaffey

Dave is co-CEO and co-founder of Smart Insights. He is editor of the 100 templates, ebooks and courses in the digital marketing resource library created by our team of 25+ Digital Marketing experts. Our resources used by our Business members in more than 80 countries to Map, Plan and Manage their digital marketing.
For his full profile, or to connect on LinkedIn or other social networks, see the About Dave Chaffey profile page on Smart Insights. Dave is author of 5 bestselling books on digital marketing including Digital Marketing Excellence and Digital Marketing: Strategy, Implementation and Practice. In 2004 he was recognised by the Chartered Institute of Marketing as one of 50 marketing 'gurus' worldwide who have helped shape the future of marketing.

Free Membership is required
Access this resource now
Get access to this and 25 other sample guides and templates with a Free Membership
Join for free and get this sample guide
Already a Free member? Login here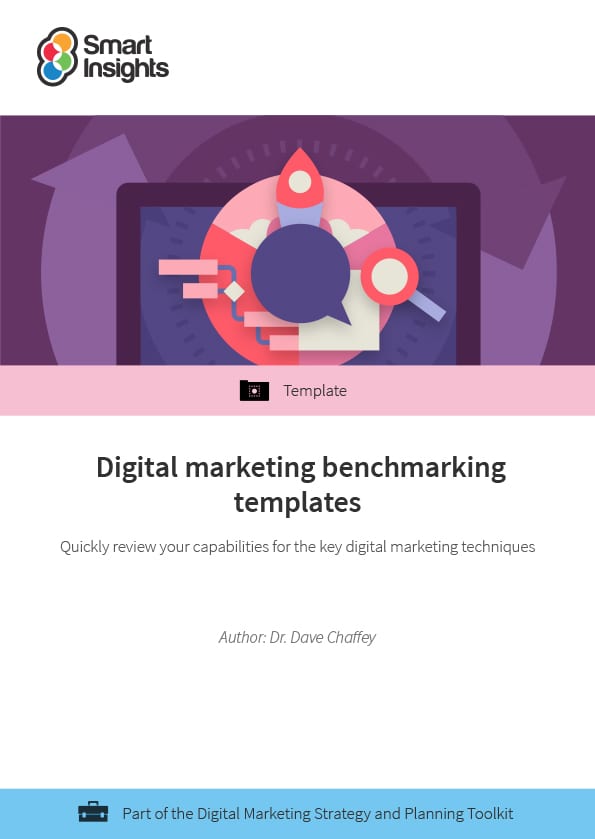 Look Inside