Is your IT/High Tech business competing online?
With so much competition, you need to stand out
AI is now more accessible than ever, allowing brands both big and small to benefit from the insights and automation options it provides
You need to be visible to existing and your future potential customers, instill trust in your IT/high tech brand, and once converted, engage them to retain them and promote advocacy.
The RACE Growth Process is a tried-and-tested methodology to support the growth of IT/High Tech businesses.
Apply a planned approach to your IT/high tech company's marketing to rapidly review, find opportunities, build a high-performing team and develop your marketing strategy to reach, acquire and engage more customers.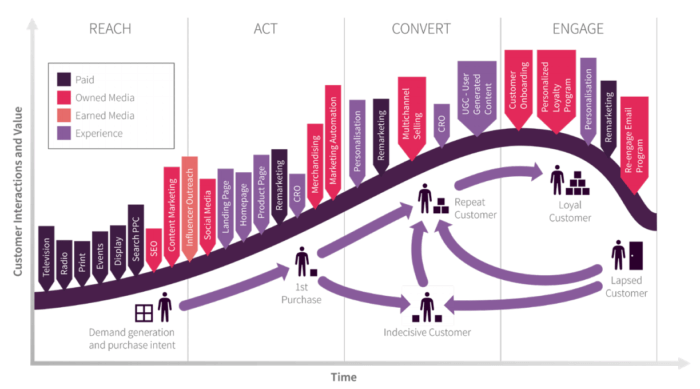 Marketing using augmented and virtual reality allows brands to craft experiences, engage consumers and encourage conversions in interesting ways.
More than ever, marketing is being driven by the wants and needs of the customer. As new technology becomes available, customers want brands to deliver experiences that use it.
This means it is important that marketers keep pace with new advances in order to meet customer expectations and deliver the best possible experiences.
When you consider the fact that these technologies are already disrupting sectors, failing to utilize them could leave you lagging behind your competition.
All companies that operate have options to apply publicly-available algorithms to their site or make use of off-the-shelf machine learning services.
This means that it is easier than ever to gather useful insights and create prediction models based on the behaviour of their customers.
Machine Learning for marketing
When looking realistically at how AI can be applied by the majority of businesses to aid marketing, it's easy to see that the focus should be on Machine Learning.
Machine Learning involves the analysis of historical data from various business interactions with audiences, as well as the audience responses.
This data will allow for the identification of the success factors of your communications, including targeting, offers, copy and frequency.
You can then use this learning in future campaigns in order to increase the chances of success.
Predictive analysis insights for marketing
Algorithms for Machine Learning generate insights via predictive analytics, it is then up to teams and individuals to action these insights or to define rules that allow your AI to act on them.
For example, you can define a rule that establishes when to send emails aimed at re-targeting your audience, giving you a better chance of a higher ROI.
Utilizing predictive analytics has been found to give consistently better results across a number of important metrics.
For businesses using predictive analytics, both the average profit margin per customer and customer lifetime value is twice as high.
Applying Machine Learning and AI across the customer lifecycle
There are many opportunities to deploy AI and Machine Learning throughout marketing. Our visual shows the wide array of applications for Machine Learning and AI for marketing, all of which can be put in place today.
None of the technology is speculative or on the horizon, these are current marketing techniques already being utilized by many successful companies.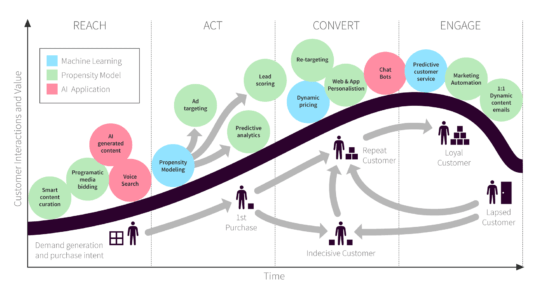 Our recommended omnichannel marketing tools for IT/high tech businesses
Learn how to structure a comprehensive omnichannel marketing plan, using the Smart Insights RACE planning framework
Learn how to develop a content marketing strategy using our content analysis and planning tools
Learn how to craft a powerful Digital Value Proposition (DVP) and how this differs from a brand proposition