AI and machine learning for marketing
Our Artificial Intelligence for Marketing Guide focusing on Machine Learning and Predictive Analytics
How will this guide to Artificial Intelligence and Machine Learning help me and my business?
It used to be impossible for all but the largest businesses to harness Artificial Intelligence technology to their marketing. Today, now even smaller businesses can apply publicly available algorithms or off the shelf machine learning services to generate useful insights and create prediction models based on their customer's behaviours.
Today,  there are many new AI and machine learning services developing which mean that these techniques are now open to every business. The purpose of this guide is to cut through the hype and noise around these powerful technologies and show what you can put in place today to boost your business results. It provides models and strategies to successfully run these projects, and gives examples and case studies of how the technology is used in businesses of all sizes, so you can understand how you can use it for your business.
The guide aims to help businesses of all sizes to apply to their marketing, focusing on Artificial Intelligence. All businesses can now use the services we recommend to implement Machine Learning. The guide explains why, how with an actionable and practical approach.
Who is this guide for?
This guide is aimed at all responsible for improving results and reducing costs in marketing including:
Senior marketers including Heads of marketing and Directors of marketing and Smaller company owners
Marketing and digital marketing managers
Brand innovation managers
How is the guide structured?
The guide is structured into the following sections:
Introduction
Artificial Intelligence Applications for Marketing including Chatbots
Machine learning for Predictive Analytics
The business potential of applying machine learning to predictive data analytics
The fundamental Principles of machine learning
Common mistakes when using machine learning
Planning an Artificial Intelligence or Machine Learning Project
Case Study: Propensity modelling of Smart Insights' leads
Infographic summarising use of Machine Learning and Machine Learning across the RACE customer lifecycle
Summary
Resource Details
About the author
Robert Allen

Robert was the Editor of Smart Insights between 2015-2017. He managed the blog and you will find blog articles on a range of subjects- Marketing Technology trends and latest tech developments are a regular focus, as well as exploring key marketing concepts. You can get in touch with him on Twitter and connect on LinkedIn.

Business Membership is required
Access this resource now
Business members get full access to this and 8 other guides in the Sector technology innovation Toolkit.
Learn more about business membership
Already a Business member? Login here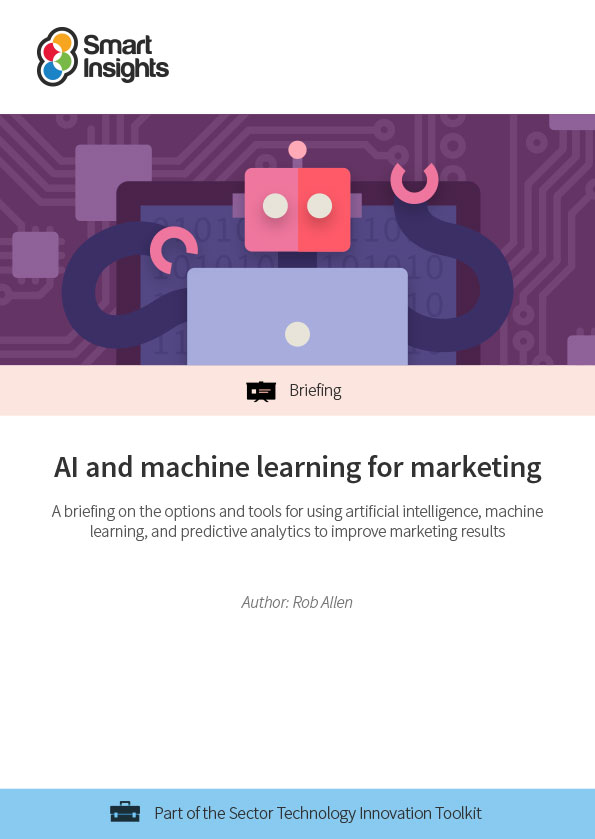 Look Inside