Improve your Marketing strategy – How to structure your marketing plan with our hub page
Use our hub pages as a reference to get up-to-speed on all the main digital marketing techniques. They will help you quickly understand how to make the most of the technique through definitions and recommendations on our member resources and blog articles covering strategy, best practices and the latest statistics.
What is a marketing strategy?
A marketing strategy is a long-term, top-level, strategic marketing plan outlining your overall business goals and the marketing objectives you have set to achieve them.
Successful marketing strategies succinctly communicate your brand value proposition (vs your competition) and how you will position and sell your products and/or services effectively in your markets. Good marketing strategies will also set expectations on budget spend, ROI, and how you will measure your success.
In marketing, there is a danger of focusing too much on tactics rather than defining the higher-level strategic thinking which is so important to business growth. We believe that every business should have a marketing plan that informs all their marketing activities including digital marketing.
Recommended marketing planning resources
How to structure your marketing strategy
A well-crafted marketing strategy considers the overall positioning of your brand, including target audience, competitive analysis, positioning, branding, and the marketing mix (commonly known as the 7Ps of marketing: product, price, place, promotion, people, processes, and physical evidence.
We recommend that digital/omnichannel businesses also review their marketing strategies across the 6 pillars of digital marketing:
1. Strategy and governance (or management): Goals – Analytics, Strategy (Segmentation, Targeting, Brand Positioning), integration, marketing and sales alignment, resourcing, structure, marketing technology  and data
2. Goals and measurement: Forecasts, digital reporting including KPI dashboards, attribution and customer insight
3. Media: Paid, owned, earned media including Search, Social and Display ads
4. Experience: Desktop / mobile website and apps. Customer service.
5. Messaging: Email, Chat, Social media, customer service, on-site interactions and personalization
6. Content: Product and blog content to fuel content marketing, PDF downloads, Interactive tools
A well-defined, integrated marketing strategy guides your team's marketing efforts, ensuring they are coherent, focused, and aligned with the overall business objectives, thus increasing the chances of success in the market.
Marketing improvement process
Our RACE Growth System gives you a simple framework for planning, managing, and optimizing your marketing performance.
Part 1. The RACE marketing planning framework
Our popular infographic summarizes the 5 steps of the RACE Marketing Planning Framework which is a classic marketing funnel aimed at improving marketing effectiveness.
The benefit of our RACE marketing framework is you can start to see results from your marketing activities instantly, and you can use data and insights to adapt your plan to meet your objectives as you can see below.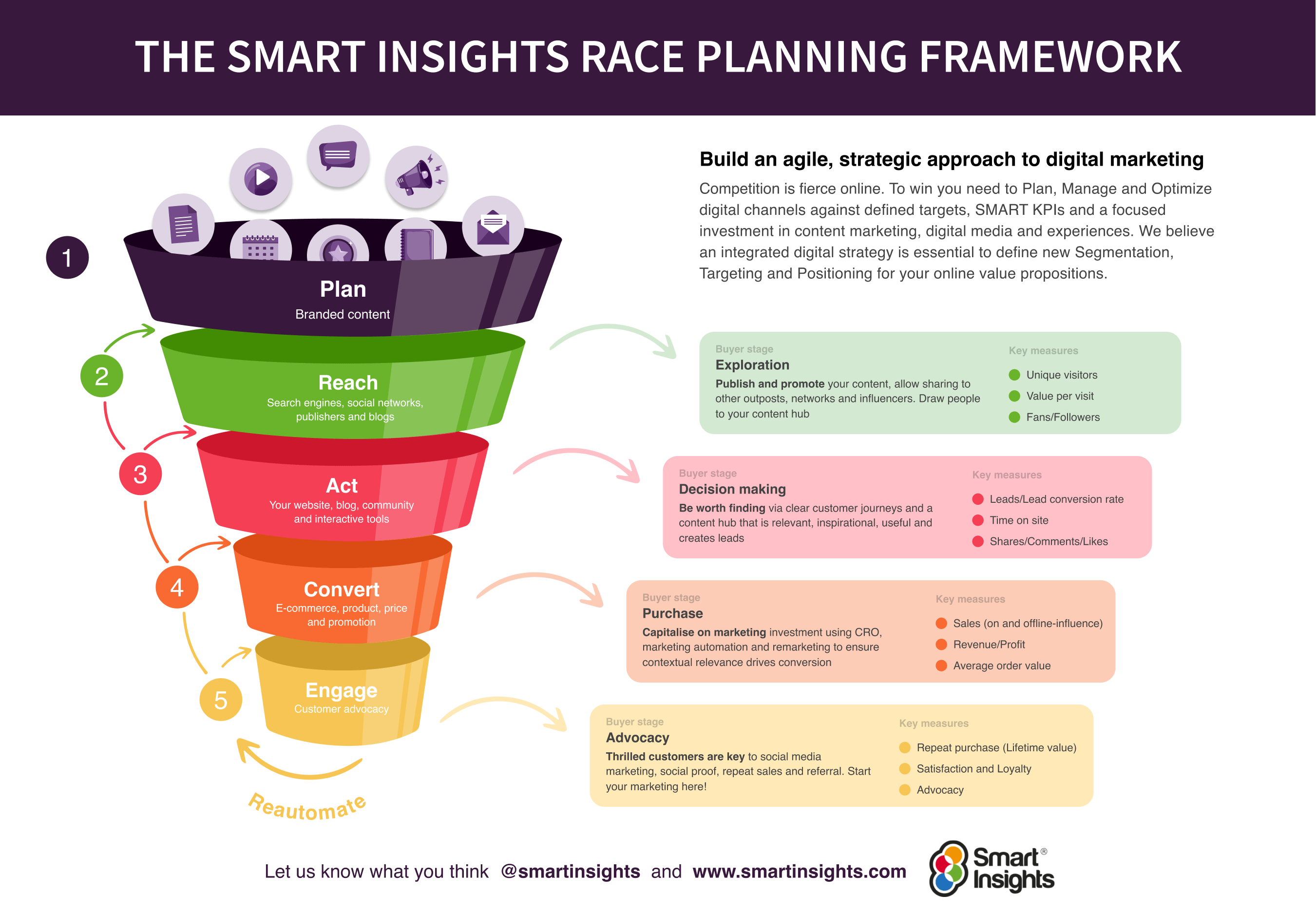 Part 2. The RACE OSA marketing improvement process:
To make the RACE planning framework actionable, OSA gives a simple process to create your overall strategy and improve the results of individual channels such as search, social media and email marketing.
OSA stands for Opportunity > Strategy > Action
The RACE OSA growth process is designed to help our members improve their results from marketing, customized to their needs based on the size and type of business, their personal experience and needs.
So you can make an instant impact, we recommend you start by creating a 90-day prioritized plan and then create a longer-term annual plan and roadmap.
OSA has three simple parts which integrate with our planning templates, learning paths, and other tools: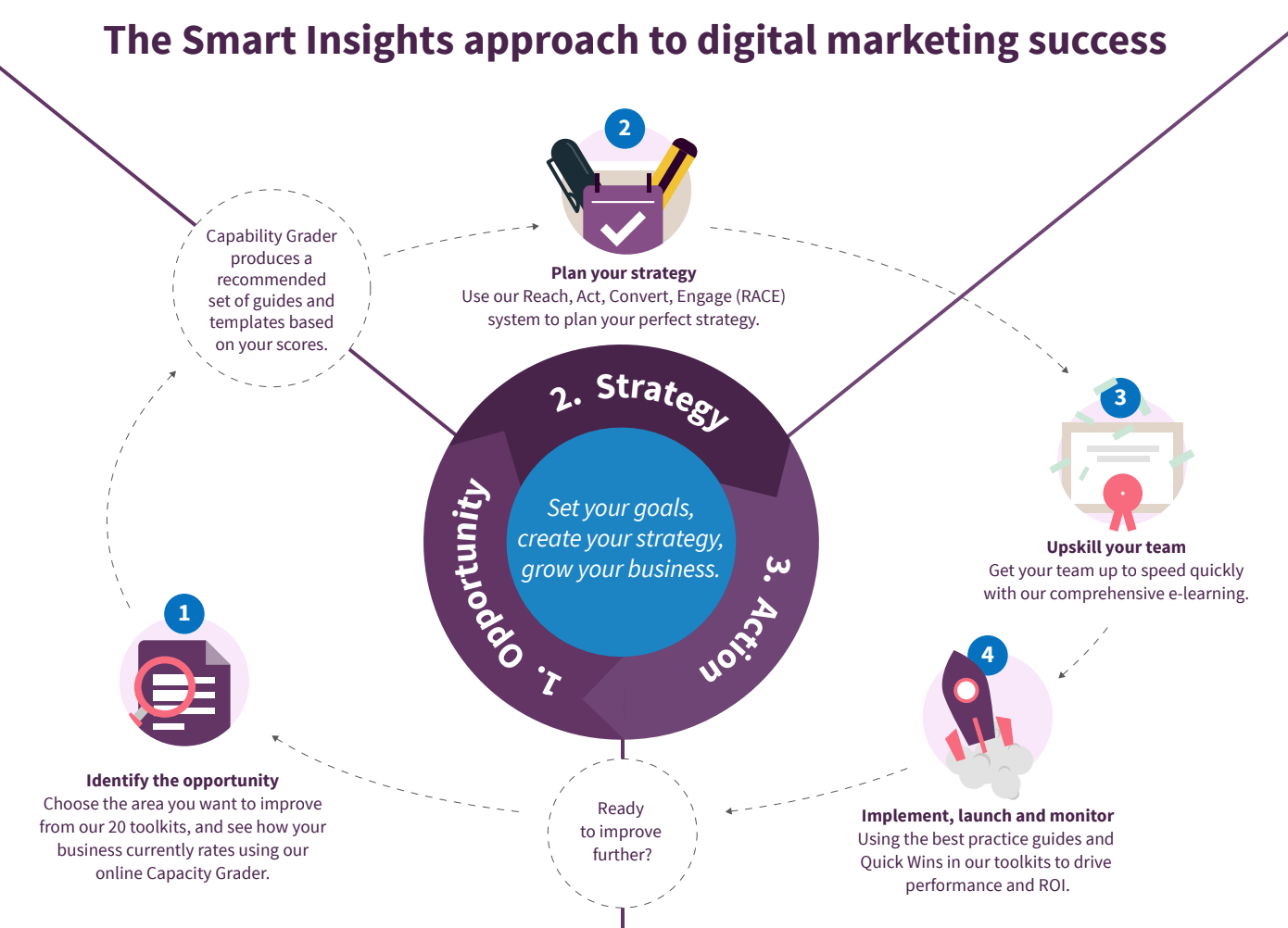 Download our marketing plan template to structure your marketing strategy
Having a defined, strategic marketing plan is an essential marketing tool for businesses of all sizes since it gives focus to your marketing activities by helping you use research and data to set realistic, achievable priorities within your marketing budget.
Your marketing plan should define what you want to gain from your investment in marketing, such as your SMART goals, and how you will achieve these goals by selecting the best marketing strategies, tactics, and channels to acquire and retain high-value customers.
Download our free marketing plan template to get started today.