Essential marketing models
15 Classic Planning Tools to inform strategy development
How will our marketing planning models guide help me and my business?
We believe that marketing models are powerful tools to aid thinking when reviewing strategic options and selecting the best future direction for a company. Yet some are not well known or misused - we wanted to share these classic models for students and professionals to apply.
With so many different planning tools available it can be difficult to known which is the best to use in which situation. We created this free guide to help today's marketers apply our pick of the most popular established frameworks for their decision making.
This guide contains 15 classic marketing planning tools to inform strategy development.
Who is this guide for?
This guide is created as a reference for marketers creating marketing plans and studying professionals completing courses for trade associations such as The IDM, CIM and American Marketing Association. It will also be useful for undergraduate and postgraduate marketing and business students.
How is our marketing models guide structured?
We have selected 15 classic planning models including:
Business growth models: Ansoff, BCG Matrix and The 7Ps.
Communications planning models: AIDA, DRIP and STP.
New product development models: Price-Quality, Diffusion of Innovation and Product Lifecycle.
Planning process models: PR Smith's SOSTAC® and Smart Insights RACE Planning.
Our free Essentials Marketing Models guide features:
A simple explanation and diagram for each model.

Examples of how, when and why to use the models.
What to watch for and best practice tips.
Resource Details
About the authors
Annmarie Hanlon

Annmarie Hanlon is the Smart Insights expert commentator on online and offline marketing strategies for business. Annmarie is the MD of Evonomie and author of Quick Win Marketing, and co-author of Quick Win Digital Marketing. She runs social media workshops in the UK and Ireland and shares marketing tips and news in her blog, B2B Marketing. You can follow Annmarie on Twitter or connect on LinkedIn.
Dr. Dave Chaffey

Dave is co-founder of Smart Insights. He is editor of the 100 templates, ebooks and courses in the digital marketing resource library created by our team of 25+ Digital Marketing experts. Our resources used by our premium members in more than 80 countries to Map, Plan and Manage their digital marketing.
For my full profile, or to connect on LinkedIn or other social networks, see the About Dave Chaffey profile page on Smart Insights. Dave is author of 5 bestselling books on digital marketing including Digital Marketing Excellence and Digital Marketing: Strategy, Implementation and Practice. In 2004 he was recognised by the Chartered Institute of Marketing as one of 50 marketing 'gurus' worldwide who have helped shape the future of marketing.

Free Membership is required
Access this resource now
Get access to this and 25 other sample guides and templates with a Free Membership
Join for free and get this sample guide
Already a Free member? Login here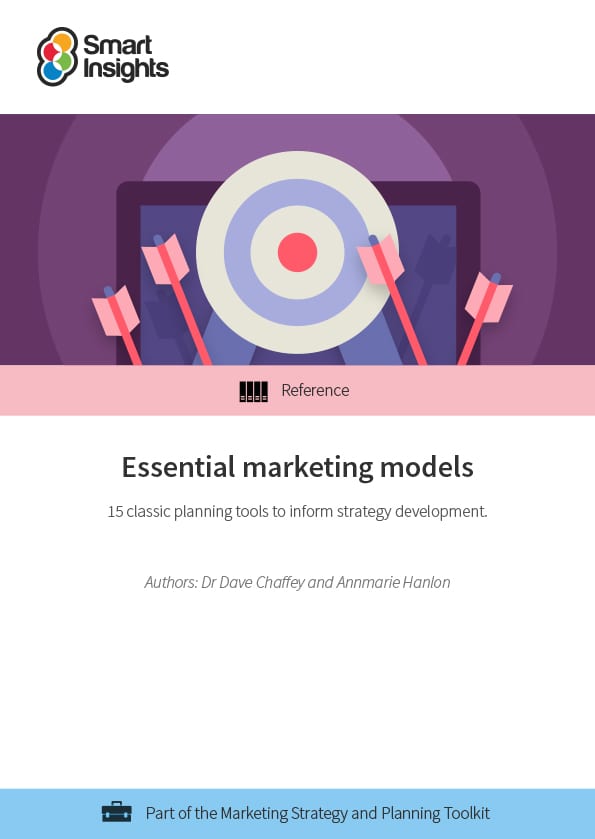 Look Inside