Online Business Plan Summary Template
A one page summary of your long-term, 3 to 5 year business plans
What does this online business template include?
The template is in four sections covering:
1. Statement of vision, business definition and aims. These sections help give a shared understanding on the future direction and purpose of the business.
2. Change in focus. This summarises future changes in focus or behaviour needed to implement the strategy and hit the targets that follow.
3. Financial targets. A top-level summary of yearly increments in sales and profit. Scope either for the business overall, or specifically for online channels.
4. Business or marketing strategies. These are shorter term, e.g. for the coming year or 18 months. They can be structured around drivers of customer acquisition, conversion and retention, but can cover other elements of the marketing mix including proposition.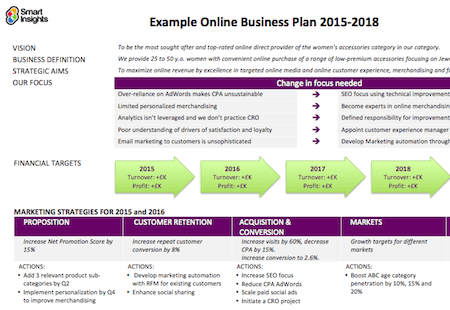 Members may have noticed that we're big fans of one-page marketing and business plan summaries! While detail is needed to make the business case for investment, the reality is that busy colleagues or clients often won't get further than the summary, so this needs to be super-efficient.
This one-page summary works particularly well for smaller businesses and startups as a summary of a longer-term business plan needed for the launch of an online business, or to make the case for longer-term investment for growth. For existing businesses, it can focus on what online, direct-to-customer channels can deliver.
The purpose of the template is to give CLARITY on the future focus for a business by defining aims and strategy priorities. However, it also has a breakdown of critical tasks at the base that will help to make it more actionable.
Resource Details
Author: Dave Chaffey
Format: One Page Plan Summary in Word document in a visual format as below for members to edit and then print as PDF. Contains one blank page and a complete worked example based on the complete marketing plan example of  our detailed 10 page 'Party Central' online marketing plan example.

Individual

Business
Individual or Business members get full access to this and 6 other guides in the Marketing Strategy and Planning Toolkit.
Learn more about membership
Already an Individual or Business member?
Login here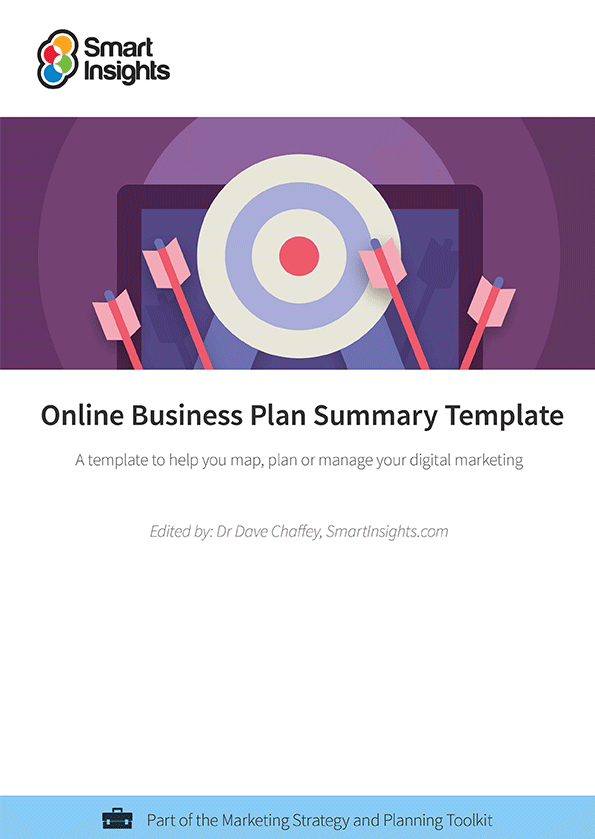 Look Inside