Developing Digital Marketing Skills
Research Report: How to develop your personal digital marketing skills and build digital skills in your organisation
How will this guide help me and my business?
This free research report presents the findings of a survey conducted by Smart Insights, Technology for Marketing and eCommerce Expo, which asked over 700 professional marketers about their current digital skills, how they wanted to develop and what trends they saw in the industry.  These findings are highly valuable to anyone working in the digital marketing industry, and the report also features strategic recommendations to implement off the back of the findings.
This research from Smart Insights, eCommerce Expo and Technology for Marketing explores one of the key marketing challenges for businesses today: what skills are needed compete using digital marketing? It's also highly relevant to individual career development for marketers too!
We first ran this survey in 2015 and repeated in the second half of 2016 to highlight the latest trends.
What does the Developing Digital Skills report contain?
Findings and recommendations are grouped in 5 key strategic areas which will help managers nurture internal talent and increase the organisations overall digital skills.
Introduction: The State of Digital Marketing Skills in 2016. An overview from Dr Dave Chaffey
What's driving demand for digital skills? The report looks at the career goals of people involved in Digital Marketing and the problems firms face recruiting digital talent.
The Digital Skills Gap? The report looks at how Digital Marketing professionals rate their own skills and those of their department overall,  as well as what areas they most want to improve in.
How should businesses support digital skills development? The report looks at how supported digital marketing professionals feel when it comes to developing their digital skills, as well as what digital marketers feel are the best ways of enhancing their skills.
Appendix and Methodology. The report reveals details regarding the makeup of the cohort of 700 marketing professionals we surveyed.
Resource Details
About the authors
Dave Chaffey and Robert Jones produced this research report on behalf of Technology for Marketing.
Dave is CEO and co-founder of Smart Insights. He is editor of the 100 templates, ebooks and courses in the digital marketing resource library created by our team of 25+ Digital Marketing experts. Our resources used by our Expert members in more than 80 countries to Map, Plan and Manage their digital marketing. For my full profile, or to connect on LinkedIn or other social networks, see the About Dave Chaffey profile page on Smart Insights. Dave is author of 5 bestselling books on digital marketing including Emarketing Excellence and Digital Marketing: Strategy, Implementation and Practice. In 2004 he was recognised by the Chartered Institute of Marketing as one of 50 marketing 'gurus' worldwide who have helped shape the future of marketing.
Robert is Research Analyst at Smart Insights, he works on member research, improving user experience of the Smart Insights site, our partner research reports and helps produce our member content. He is a member of the Market Research Society (MRS) and has over 5 years experience in Insight and UX.

Basic Membership is required
Get access to this and 27 other sample guides and templates with a FREE Basic Membership
Join for free and get this sample guide
Already a Basic member? Login here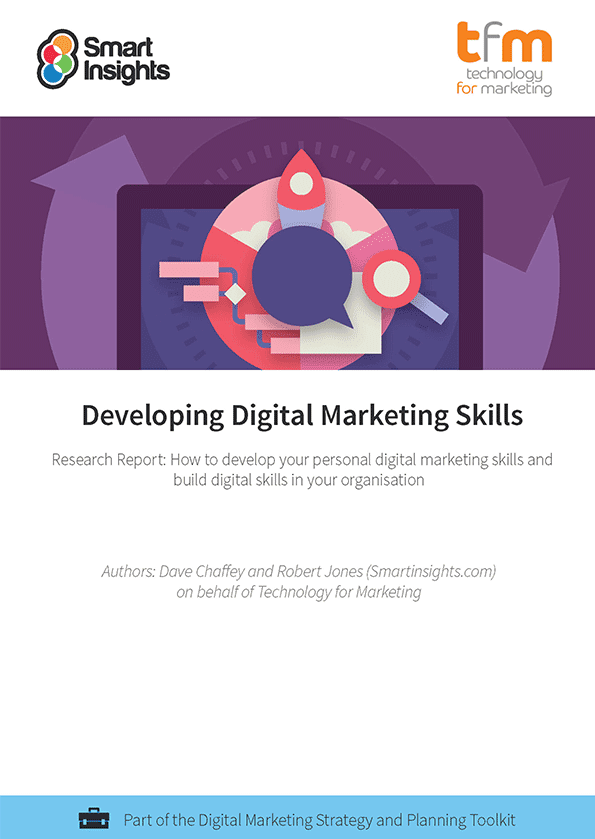 Look Inside