Improve your Local SEO with our hub page
Use our hub pages as a reference to get up-to-speed on all the main digital marketing techniques. They will help you quickly understand how to make the most of the technique through definitions and recommendations on our member resources and blog articles covering strategy, best practices and the latest statistics.
If you have local real-world sites serving customers like a store or hotel then Local SEO through Google Places will be really important for you. Here are some of the best resources
Local SEO quick guide
Local SEO success factors
The big question then is, how do I make sure I am at the top for relevant searches? Unlike traditional search results, inbound links and the likes are less relevant but there tactics you can use to try and ensure your business is prominent where relevant.
The priorities should be to implemented the following (without making it too complicated):
Copy / Content : Utilising relevant key-terms in your titles, descriptions just as you would a web page is clearly an obvious place to start. Be sure to utilise content you have such as videos, images etc within your listing. Being active on your listings is important too, putting coupon codes live and adding videos / images overtime is important to show you are active & taking it seriously. Particularly important for companies with multiple listings.
Relevant & Engaging Website : Google will expect relevant websites / landing pages to direct people to, just as it would with its paid search advertising. Creating pages specifically for your listings (if they don't already exist) is key to ensure you listing is highly ranked but also for you to ensure the traffic is converted into enquiry / sales.
Reviews : Quite possibly the most important area in my opinion. Encourage customers to recommend / review you through the Google places system will undoubtedly push your business in the results. The sentiment & rating attached to each comment will impact how that rating is used within the algorithm. Not only will it impact your ranking it will instil confidence into searchers that you are genuine and good at what you do.
Local SEO definition
As you can see by the search below, Google Places now takes up larger area on a Google results page for a local search. Even more significant, all the top entries have a Places entry, so you're effectively invisible unless you do Places marketing well.
This clearly presents a great opportunity for businesses though as with traditional search results there is only room for a certain amount of results and we all understand the value of being number 1.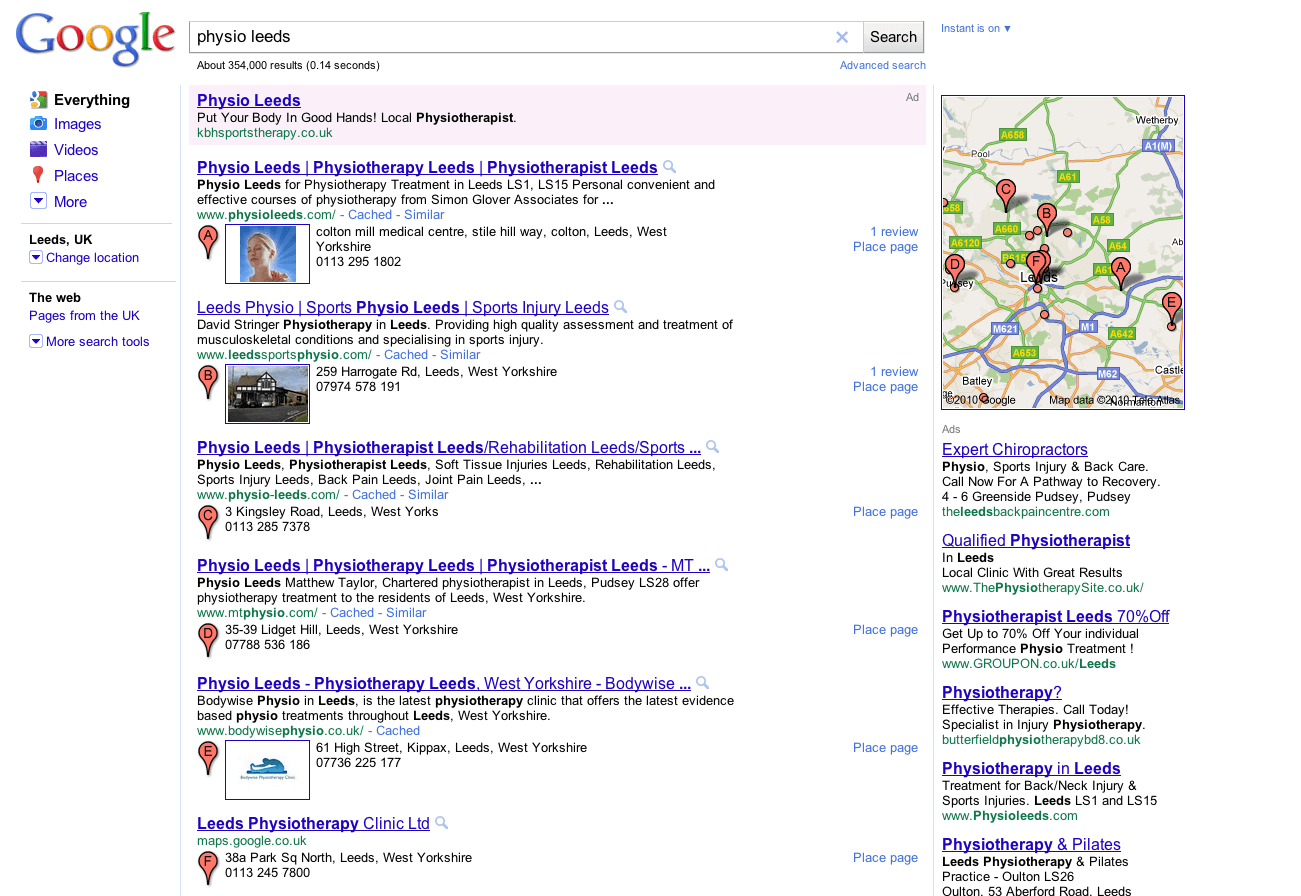 Recommended member resources for Local SEO
Ebooks on Search Engine Optimisation (SEO)
Marketing templates on Search Engine Optimisation (SEO)
Best websites on Local SEO
This is Google's site to help business: http://www.google.com/places/.
A guide we'd recommend is by David Mihm (Local search best practice guide) outlines the factors that are likely to be taken into account when Google generates results in Google Places.
This is another useful reference source with analysis for the latest Google Places updates.
This guide has been orientated around Google places but they tend to lead these type of innovations & updates, which means Yahoo / Bing will not be far behind. Checkout their versions of Google places at:
Key techniques for Local SEO
These are the related techniques which we recommend as important for managing Local SEO effectively. View these hub pages giving details on best practices, statistics and examples for these techniques: