On-page SEO and copywriting template
A template for content editors and reviewers
 Who is it for?
This template gives a step-by-step process of 10 success factors to follow for content creators, editors and reviewers who aren't SEO specialists, but need to know the basics of which factors they can influence to rank higher in the search results. They may also be looking for more details on how copywriting can be used to increase ranking.
Our main reason for developing this guide for members was the need to improve standards of copywriting for SEO in teams in medium and larger organisations where several people who aren't usually SEO specialists need to create and review web pages.
How is it structured?
The template is in two parts. Part 1 recommends 10 Steps to follow to give a structure for content writers to think through when planning and creating content for a page. In time, they can become second nature.
Part 2 gives more specific guidance on individual ranking factors. You may want to combine some of the detailed factors with the first part if you want a single list.
How will template help me or my business?
This resource is a practical template aimed at helping content editors to improve how they create and update copy for web pages to improve their ranking in the organic search results while keeping the copy persuasive for human readers.
It's aimed at improving the consistency and use of advanced on-page SEO techniques.
The template is in Microsoft Word format so that it can be amended to add notes or examples to tailor it for your own in-house copywriting guidelines to make it more relevant for your industry, agency.
Resource Details
Authors: Dave Chaffey, Smart Insights
Format: 5,000 word, 10 page A4 page Word Doc structured around 10 steps to improve ranking within Google with detailed best practice guidance and examples.

Individual

Business
Individual or Business members get full access to this and 7 other guides in the Search Engine Optimisation (SEO) Toolkit.
Learn more about membership
Already an Individual or Business member?
Login here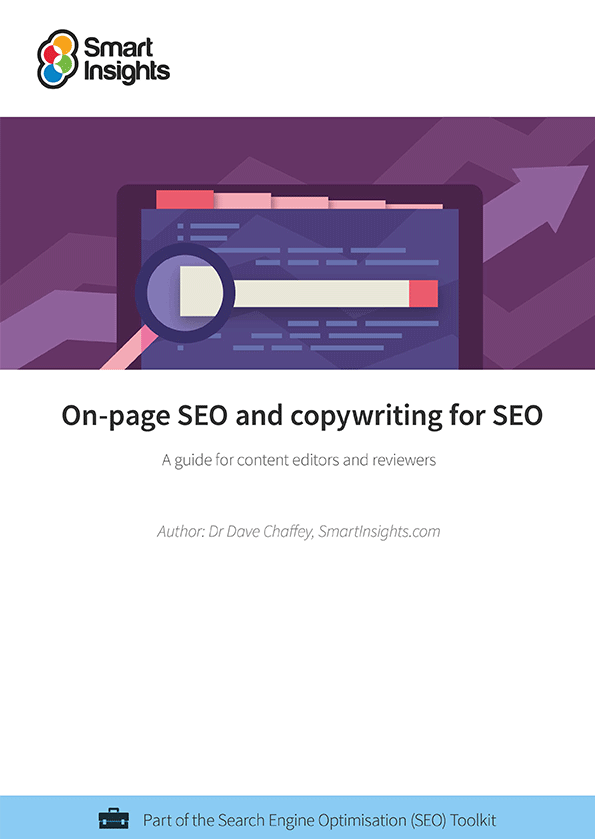 Look Inside