Digital marketing strategy
Improve your Digital marketing strategy with our hub page..
We believe that a digital marketing strategy is essential to take advantage of the growing opportunities from digital marketing. An integrated digital strategy will give you a foundation for all the key online marketing activities we recommend in the Smart Insights RACE digital marketing planning framework.
Yet our Managing Digital marketing research showed that nearly half  of companies don't yet have a planned digital marketing strategy: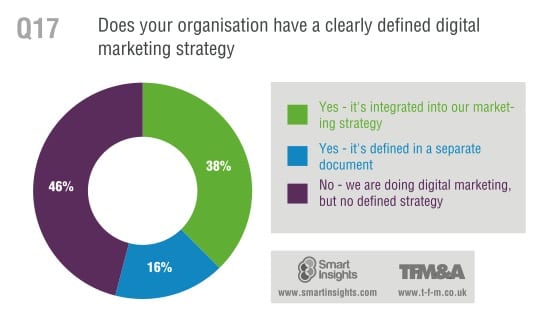 This page groups our key recommendations on creating a digital strategy. If you're new to Smart Insights we recommend our free download digital marketing strategy template.
Primer - Creating plans for digital marketing
At Smart Insights we believe that marketers with the best plans win. The best plans start with a solid framework to make them easy to create and communicate. This planning primer shows our main resources for planning - logged in members can mark off which of these resources they have used.
Digital marketing strategy quick guide
Digital marketing strategy success factors
An effective digital strategy will help you take the right decisions to make a company successful online.  A strategy process model provides a framework that gives a logical sequence to follow to ensure inclusion of all key activities of strategy development and implementation. We recommend the SOSTAC planning approach.
Digital marketing strategy definition
A digital marketing strategy is a channel strategy which means that it should…
Be informed by research into customer channel behaviour and marketplace activity = intermediaries, publishers and competitors
Based on objectives for future

online and offline channel contribution %

Define and communicate the

differentials of the channel to encourage customers to use it,

BUT, need to manage

channel integration
So put another way, digital marketing strategy defines how companies should:
Hit our channel leads & sales targets
Budgets for Acquisition, Conversion, Retention & Growth, Service
Communicate benefits of using this channel – enhance brand
Prioritise audiences targeted through channel
Prioritise products available through channel
Recommended resources for Digital marketing strategy
Ebooks on Digital marketing strategy
Online training on Digital marketing strategy
How to videos on Digital marketing strategy
Marketing templates on Digital marketing strategy
Best websites on Digital marketing strategy
There are surprisingly few quality digital marketing strategy sites since most focus on the strategy. We like to think we're different in our focus on strategy too. These  are our top 10 sites to learn more about digital marketing strategy:
Digital marketing strategy answers
Get answers and help others by joining the discussion.