Helping members Plan, Manage and Optimize
Our passion is helping marketers and businesses get more from integrated digital marketing – to make the most of the great opportunities and avoid wasting time and money.
We share high quality Actionable Marketing Advice to help our members develop their business and personal marketing skills using our planning templates, ebooks and online training courses. We believe that a structured, planned approach to improve digital marketing based on analytics and insight gives far better results than a less structured approach.
Expert member benefits download
Our Expert members, based in more than 50 countries, use our advice to improve the results for their businesses or their clients to create structured plans to develop digital strategies and manage marketing.
Learn more in our guide to Expert membership: Download.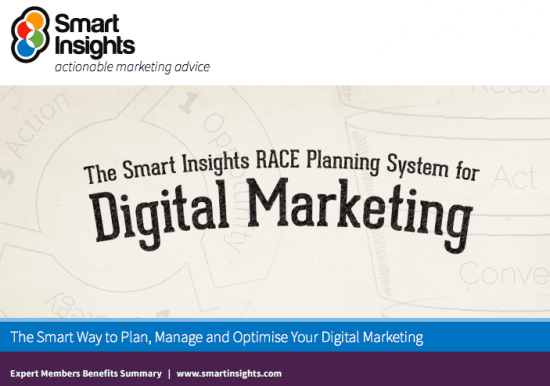 The Smart Insights approach
How can we help you?
Our actionable library of marketing advice for Expert members, created by 25 plus digital marketing specialists and edited by bestselling digital marketing author Dr Dave Chaffey is focused on helping business owners, marketers and digital marketing specialists improve the commercial results from using digital marketing for their company or their clients.
Our resources help you develop a planned, strategic approach looking at the big picture first since many don't have a strategy. We then drill down into the details to get the most from using the core digital marketing channels like desktop and mobile sites, SEO, PPC and Social media by using analytics to get better results.
Watch our Explainer video to see how our advice helps our Basic and Expert members:
You may be wondering, where do I start?
The best point to start is our digital strategy toolkit which will help you review your current use of digital marketing and help you create or refine your digital strategy and roadmap.

Our marketing planning and management resources
To help marketers make more of online marketing, we've created:
What makes us different?
This is the advantage we offer to help you build your expertise through:
Actionable advice - review and improve results with our practical workbooks, templates and videos  - all our content helps you map, plan and manage
Fact-based actions - we show how to use Google Analytics and the latest stats to make measurable improvements
Comprehensive and structured - 150 techniques joined up by the RACE framework - we keep to plain English and do our best to limit jargon
Different ways to learn - Templates, Ebooks, Video courses and screencasts; we think it's important that you can learn and apply new ideas your way
Great value - Everything on-demand, all year for less than the price of a training course
The latest world-class advice - Recognised digital marketing guru Dave Chaffey has assembled a team of expert commentators  who are specialists in all the digital marketing disciplines to give you the best advice we can
Who's behind Smart Insights?
The Smart Insights team are all seasoned, active digital marketers working on projects to define and implement digital strategies for clients. We're keen to share our experiences to help others and learn more - the learning never stops in digital marketing...
The two owners of Smart Insights are:
Dr Dave Chaffey, CEO and co-founder, a bestselling author of books on digital marketing and Ecommerce, recognised in 2004 by the Chartered Institute of Marketing as one of 50 gurus who have "shaped the future of marketing". Dave continues to speak, train and consult on digital marketing strategy with his main focus on developing member services for Smart Insights.
Stu Miller, COO, CTO and co-founder. Stu has 16 years of experience of managing web based technology for both large companies and start-ups, with the last 10 of those creating and running internet related businesses. Prior to Smart Insights he worked as a consultant and was a co-founder of First10, a digital marketing agency. Stu now runs the operational side of Smart Insights from its office in Leeds, UK.
We select our specialist Expert commentators for their in-depth knowledge and experience of specific digital channels and techniques. But comments and recommendations from members add dramatically to everyone's knowledge.

What we believe - our manifesto for today's marketing
Getting the most from the many marketing opportunities available today is challenging. In creating our new site, we want to offer advice to make a difference, so we set out how in our manifesto.
This is what drives us, what we advise, what we think is needed to be successful in today's marketing:
1. Digital marketing is Marketing.
2. You need a strategy.
3. Measurement and optimisation are the foundation.
4. Joined-up customer-centred marketing is essential.
5. Keep communications human
6. Be agile
7. Inbound marketing trumps outbound marketing
8. Engagement is the real challenge
9. Think Global, Act Local
10. Markets are conversations