The learning objectives for this digital marketing elearning course are to help learners:
Create a structured digital marketing plan and budget
Identify the correct measures to set objectives and evaluate digital marketing
Review and prioritise the strategic options for boosting customer acquisition, conversion and retention using digital marketing
Understand and follow the practical success factors to improve results from digital marketing
How long will the e-learning course take?
We have designed this course to be efficient for busy managers who are looking to learn rapidly while they continue their 'day job'. There is clear progression through the course based on the structure defined in the Smart Insights RACE planning framework. It doesn't use overlong videos or traditional 'page-turning elearning', instead the learning material is a blend of succinct definitions, explanations, strategy recommendations and actionable tips for managing digital marketing that can be quickly scanned and acted upon. Each lesson has a range of learning features including visual examples, case studies and  videos.
Remember that this is a practical course with a corresponding activity in the workbook for the course, so learners can complete an analysis or planning activity to apply their learning and create a digital marketing plan as they complete the course.
The total recommended learning time is 40 hours, but learners can dip into the learning at any point so they can just work on improving the marketing activity that is most relevant to them at any time.
About the Digital Marketing E-learning course
Your tutor: Dr Dave Chaffey, author of the best-selling books: Digital Marketing: Strategy, Implementation and Practice and Emarketing Excellence 
Format:  Interactive E-learning course with strategy recommendations, best practice tips, examples and quizzes. Structured around the RACE framework – start at the beginning or go straight to the digital marketing technique you need to improve.
Certification: If you complete the optional interactive questions in each topic and score more than 70% in the final optional test you can download a certificate to prove your knowledge of digital marketing. The course is accredited for the quality of the learning experience and assessment by the independent CPD Standards Office as explained in the section on accredited.
Note: This E-learning course doesn't require you to sit through lengthy videos or page-turning, instead, it's based on 25 key easy to scan activities within RACE to make it more rapid to apply.
How will our Digital Marketing E-learning programme help me and my business?
This interactive online course will help you rapidly learn the fundamentals of successful digital marketing and step you through how to create structured plan to grow your business using digital marketing.
Unlike many elearning courses for digital marketing which can be academic, superficial or not that actionable, our course is designed to be super-practical – as you complete each topic, you will create a Digital Strategy or Plan for your business or your clients using our Digital Strategy Workbook. This isn't a top-level introductory course – it drills down into the 25 key activities you need to get right to create a complete digital marketing strategy.
As you work through each topic in the course we will recommend the most relevant Expert member resources so you can download these to get more practical details and examples as you need them.
What is the RACE Digital Marketing Planning framework?
RACE stands for the different digital marketing activities we need to manage as digital marketers in the customer lifecycle.
RACE covers the full customer lifecycle or marketing funnel to achieve these goals:
(Plan) > Reach > Act > Convert > Engage
There is also an initial phase, 'Plan' involving creating the overall digital strategy, objective setting and roadmap.
For each part of RACE we have defined 5 key digital marketing activities to help brands improve results throughout the customer lifecycle. The course is structured around these.
Accreditation for Continued Professional Development (CPD)
The Smart Insights Digital Marketing Planning training course has been independently assessed and accredited by the CPD Standards Office(most recent assessment in 2016), so you can be confident that the quality of the learning and assessment experience has been audited and recognised for its quality. If you are following a CPD programme you can assign 40 hours of the course to CPD when you complete our elearning course.

What will I get from completing this Elearning course?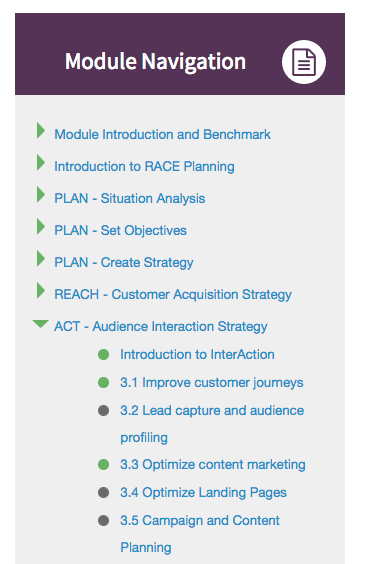 The RACE Digital Marketing planning course and the companion digital plan workbook are designed to  help you develop an actionable digital marketing plan that will help your business grow.
A digital marketing strategy with a well thought out plan will help you get great results from digital, and prevent you wasting time with ineffective tactics.
As you work through each unit in this module which is part of RACE planning you will cover 5 x 5 = 25 numbered topics covering best practice for all activities involved with creating a digital plan.
The topics will be marked off in green when you review them after completing an optional quiz.
To prove your new-found and existing knowledge and experience of digital marketing, there is an optional drag and drop quiz 'Final Assessment for Qualification' drawing on optional questions at the end of each topic.
Expert Members can complete the full RACE Digital Marketing Elearning module now and Basic members can try the first lesson for free. We also have Elearning modules for all the areas of online marketing covered in our digital marketing toolkits: These include:
Content Marketing
Digital Experience management (Website design)
Email marketing and marketing automation
Google AdWords
Google Analytics
Marketing campaign planning
Social media marketing
SEO
What are the learning outcomes and who is this course for?
The course is aimed at managers within a business who are responsible for developing vision, strategy and direction for improving the contribution of digital marketing to a business.
Marketing managers
Digital marketing managers
Ecommerce managers
Agency owners
People in these roles often have good levels of experience in traditional marketing, but have varied levels of knowledge about digital marketing.
It's also popular with marketers in more junior roles who are looking to expand their knowledge of digital marketing roles with a view to gaining a more senior role with overall responsibility for digital marketing, or in an agency role, client account management. Typical roles here include:
Digital marketing specialist (e.g. Search, Social or Display)
Brand or product managers
Career changers who are looking to specialise in digital marketing
Look Inside the Digital Marketing E-learning course