Our round-up and recommendations on practical steps to comply with European Union data protection and privacy legislation
Are you ready for GDPR? The GDPR (General Data Protection Regulation  (Regulation (EU) 2016/679) comes into force in all 28 countries in Europe on 25th May 2018. It is a new regulation agreed by the European Union which seeks to improve transparency and the effectiveness of data protection activities. It affects how businesses must explain and obtain consent for new and existing prospects and customers who subscribe to their email lists and are stored within CRM and other systems.
Our research found that only 6% of over 200 respondents said their company is ready: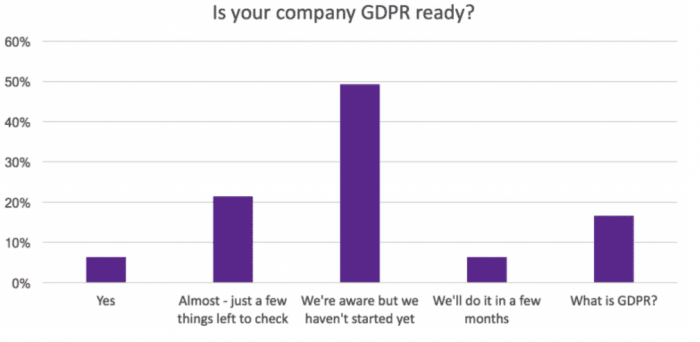 If you're unsure about what GDPR is, how or if it affects you, and how you can prepare for it in time without receiving a fine, our Email Marketing Manager has written a brand new guide detailing everything you need to know about GDPR.