GDPR briefing
Our round-up and recommendations on practical steps to comply with European Union data protection and privacy legislation
How will this guide help me and my business?
Are you ready for GDPR? The GDPR (General Data Protection Regulation  (Regulation (EU) 2016/679) comes into force in all 28 countries in Europe on 25th May 2018. It is a new regulation agreed by the European Union which seeks to improve transparency and the effectiveness of data protection activities. It affects how businesses must explain and obtain consent for new and existing prospects and customers who subscribe to their email lists and are stored within CRM and other systems.
What our GDPR briefing shows you
Our briefing will help you:
Learn the concepts and guidance of the GDPR and how you need to respond and when.
Understand the context of GDPR, explaining differences to previous data protection legislation and relating it other laws such as the new ePrivacy directive / Privacy and Electronic Communications Regulations (PECR) which will come into force at a similar time to GDPR.
Prioritise actions you need to take to prepare and implement your solution.
Get practical recommendations on how you need to update your data collection forms, privacy statements and re-consent.
Review examples of forms and statements companies have used to gain consent.
Who is this guide for?
GDPR affects all businesses that market to customers in Europe.
This guide is aimed at anyone responsible for customer data, communications and legal compliance for communications. This includes:
Business owners and Directors who have legal responsibility to comply
Senior marketing managers such as CMOs, heads of marketing and brand managers
Marketers involved with implementing GDPR, i.e. campaign and email marketing managers and execs
Those specifically responsible for data protection compliance
GDPR affects companies based in the EU but also companies outside of the EU that have customers (or personal data) within the EU
How is this resource structured?
The guide contains practical information to help you understand GDPR and implement anything required before it comes into force. The sections in the guide are:
Introduction
Who does GDPR affect?
Context: What has changed compared to privacy directives?
Practical steps for implementation of GDPR
Examples of forms and privacy statements
Useful sites
Quiz
Resource Details
Authors: Kim Greenop-Gadsby
Last updated: October 2017
Format: Online long form containing the latest information on GDPR interpretation, with quizzes and actionable strategy recommendations
About the author

Kim Greenop-Gadsby is the Email Marketing Manager for Smart Insights. She manages all of Smart Insights email marketing and their automation platform. She gets very excited about all things email because she is #EmailGeekUK. Kim was born and bred in South Africa and has over 16 years experience in web development and digital marketing. When she is not being an email geek, she spends her time with her husband, two sons and their menagerie of pets.

Individual

Business
Individual or Business members get full access to this and 13 other guides in the Email marketing and Marketing Automation Toolkit.
Learn more about membership
Already an Individual or Business member?
Login here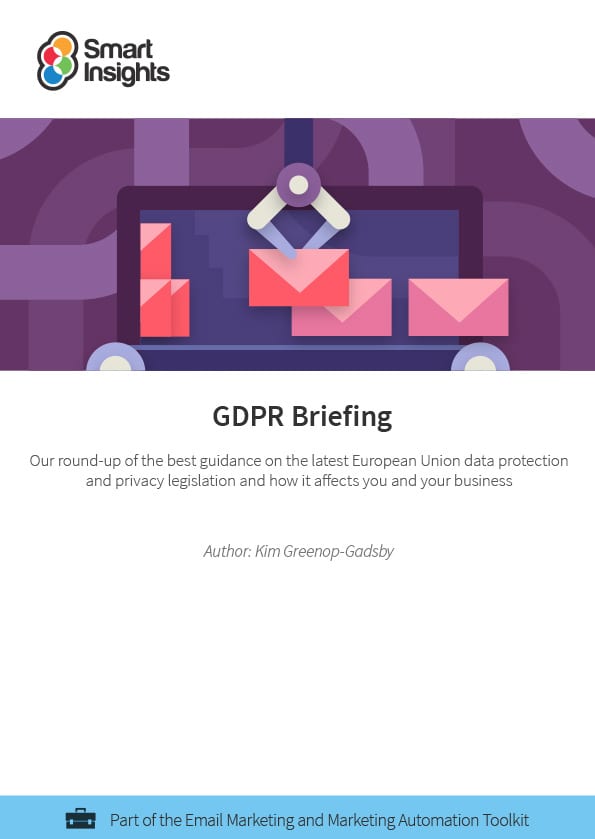 Look Inside