About Smart Insights Guides
What makes our guides different?
We've created our Seven Steps e-books to be your constant companion as you learn, review and improve your approach to digital marketing. We know you're busy and under-pressure to get results, so they're written to help you do just that by taking you through the questions you should be asking to improve performance and suggesting the right approaches for you. All our guides have these features:
Seven Steps structure – no-nonsense, super-scannable advice making it easy to create a focused plan.
Commercial-results focused – the main aim of each guide is to help you get better returns from your online marketing, anything that doesn't help towards that doesn't go in.
Analytics-based improvements – our passion is helping companies improve through showing how to use data available in Google Analytics and other online insights tools
Workbook and template based – Create an action plan through working through the entire guide or just work on one area at a time.
Question based – We keep our guides as short as possible – just showing the questions you need to ask & answer to get better results. We highlight the main steps you should take in boxes showing best practice tips
Comprehensive – Dave Chaffey and the authoring team have years of experience in online marketing, we know that the details matter and that's what we show.
Example-based – we believe we learn best through examples, so we illustrate through lots of examples and screen captures.
The guides are designed to highlight our recommendations and to help you review your approach using an easy to scan design for reading online or printing.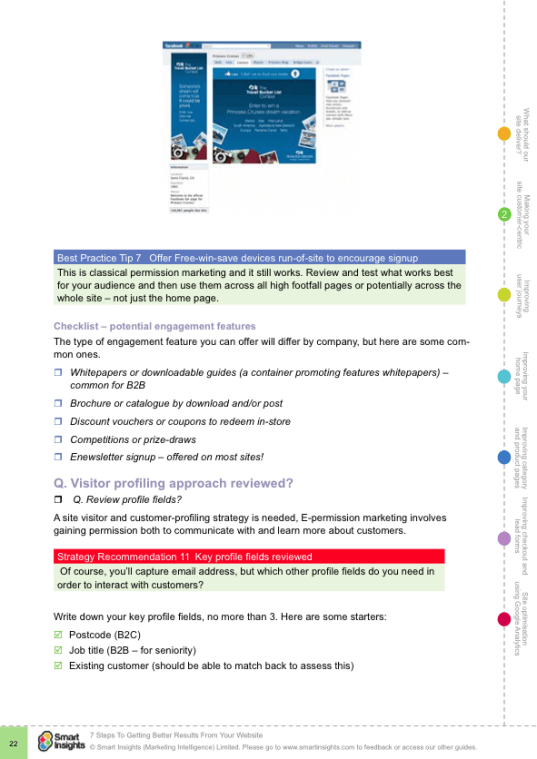 How will the guides help me?
Our Ebooks are designed to help you and your team if you are actively managing digital marketing. They are also packed full of practical advice if you're working hands-on working on a company website or campaigns like search, email or social media marketing. This is how our guides help:
Company owners and marketing managers - we help you create a plan so you can invest in the approaches that matter. We help you set goals and put in place a system to measure and improve since all our guides cover how to get more from Google Analytics.
Digital marketing and Ecommerce managers - we help you get more from each of the key digital marketing channels plus your web and social presences through reviewing your approach using using our comprehensive workbook templates.
Digital marketing specialists - whether you work on Social media marketing, SEO, PPC, email marketing or conversion rate optimisation for the website we have a guide to help you boost your approach.
Consultants and agency specialists - review your techniques and process against the best practice checklists in our guides.