Google Analytics for e-commerce template
Our analysis template for recommendations of online sales optimisation
How will this Google Analytics e-commerce template help me?
Google Analytics is a powerful tool, but you need a "Guided Analytics" approach to go beyond a simple review of trends in sales figures to identify techniques to increase revenue. A marketer or consultant needs to know the right sequence of questions to ask to improve sales, and where to find the answers...
This template acts as your structured guide based on an approach used by two Expert users of Google Analytics who have defined processes for reviewing all the opportunities to increase sales and making recommendations on where to prioritise.
We designed this template to help give companies a structured approach to apply Google Analytics to identify ways to increase sales for e-ccommerce sites. It was mainly created for use on retail sites, but it can be applied in other sectors too with a transactional site including financial services and Travel. Many of the reviews and recommendations can also be applied in businesses offering services too.
What does the Google Analytics e-commerce site audit include?
This Excel spreadsheet contains:
120 questions and advice on what to look for in analytics categorised into around 40 key issues to consider
Links to advice to help better customise Google Analytics better to your business
Selectors to benchmark site opportunities on a five point scale using a Radar chart
The six key areas of e-commerce recommendations covered are:
1. Analytics setup
2. Expanding Reach
3. Engaging on the Path to Purchase
4. Conversion Effectiveness
5. Loyalty - engaging for repeat purchases
6. Advocacy using content and social media
Resource Details
About the authors
Dan Barker

Dan Barker is the Smart Insights expert commentator on using Analytics for Ecommerce. He is an independent consultant, working across analytics, SEO, conversion optimisation, email, content and more. You can Follow Dan on Twitter or Connect with Dan on LinkedIn
Dr. Dave Chaffey

Dave is co-CEO and co-founder of Smart Insights. He is editor of the 100 templates, ebooks and courses in the digital marketing resource library created by our team of 25+ Digital Marketing experts. Our resources used by our Business members in more than 80 countries to Map, Plan and Manage their digital marketing.
For his full profile, or to connect on LinkedIn or other social networks, see the About Dave Chaffey profile page on Smart Insights. Dave is author of 5 bestselling books on digital marketing including Digital Marketing Excellence and Digital Marketing: Strategy, Implementation and Practice. In 2004 he was recognised by the Chartered Institute of Marketing as one of 50 marketing 'gurus' worldwide who have helped shape the future of marketing.

Business Membership is required
Access this resource now
Business members get full access to this and 10 other guides in the E-commerce/retail Toolkit.
Learn more about business membership
Already a Business member? Login here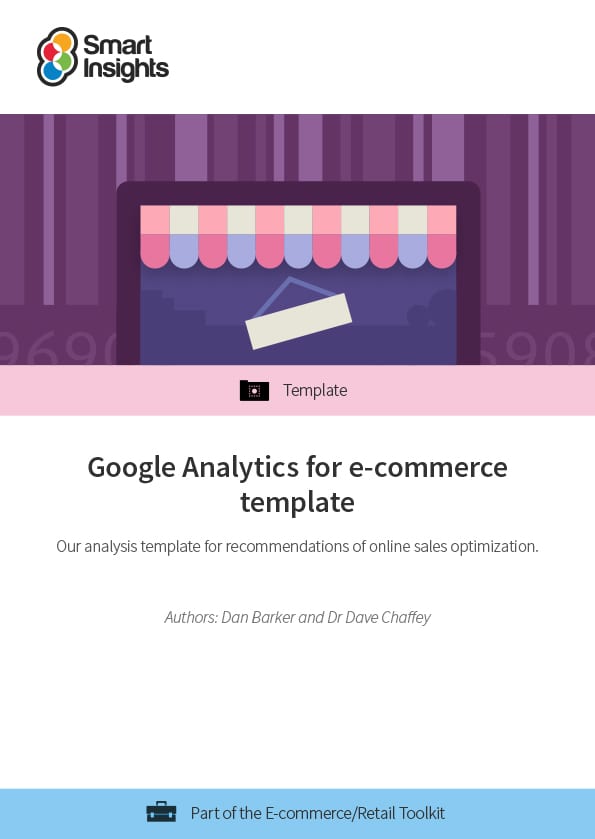 Look Inside