Email marketing campaign broadcast checklist
Avoid the obvious and not-so-obvious mistakes with your email marketing broadcasts
How will this guide help me?
Unfortunately, there's a lot that can go wrong when sending out an email campaign or enewsletter that can damage perception of your brand or kill your campaign effectiveness! This checklist is designed to help you to create more consistent quality checklists which work better for your subscribers and your brand.
This template alongside the 7 Steps Guide to Email Marketing shows you how to:
Create more engaging emails which increase response and revenue
Avoid embarrassing mistakes when customers receive errors in their email communications
Achieve consistency within your team when different people have different experience levels – review against your own checklists
Resource Details
About the author
Jordie van Rijn and Dave Chaffey produced this template
Jordie van Rijn has more than 13 years of hands-on experience as an independent email marketing consultant. Next to helping companies improve their email marketing results he gives email marketing training and is a writer and speaker in the field of online marketing.
Dave is CEO and co-founder of Smart Insights. He is editor of the 100 templates, ebooks and courses in the digital marketing resource library created by our team of 25+ Digital Marketing experts. Our resources used by our Expert members in more than 80 countries to Map, Plan and Manage their digital marketing. For my full profile, or to connect on LinkedIn or other social networks, see the About Dave Chaffey profile page on Smart Insights. Dave is author of 5 bestselling books on digital marketing including Emarketing Excellence and Digital Marketing: Strategy, Implementation and Practice. In 2004 he was recognised by the Chartered Institute of Marketing as one of 50 marketing 'gurus' worldwide who have helped shape the future of marketing.
What does the checklist include?
The template has 5-10 action items to review in these areas:
Engaging email headers checklist
Effective lead-ins
Copywriting tone-of-voice
Persuasive offers and messaging
Functional testing
Response tracking and optimisation
Audience and Data
Organisational
Email legal requirements including privacy
Related templates: Email marketing effectiveness audit, Contact strategy template, Email campaign calculator

Individual

Business
Individual or Business members get full access to this and 13 other guides in the Email marketing and Marketing Automation Toolkit.
Learn more about membership
Already an Individual or Business member?
Login here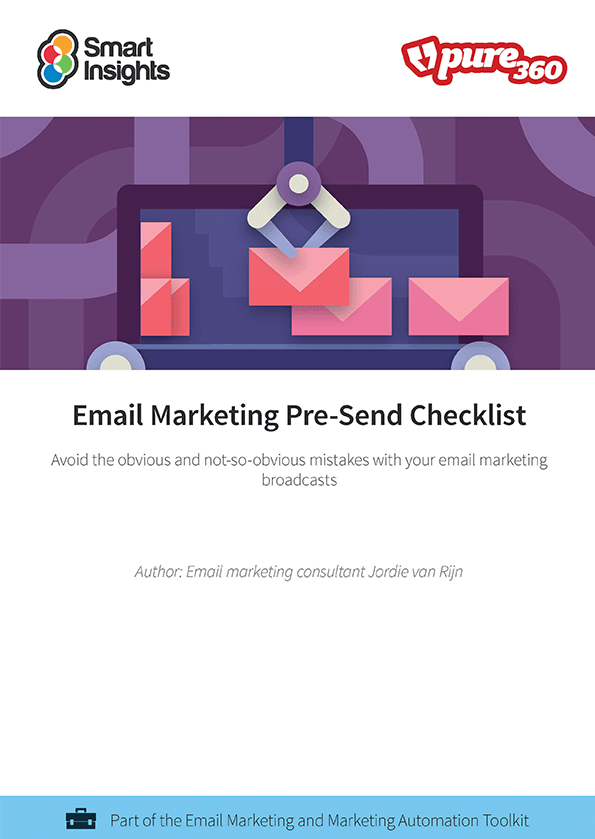 Look Inside