10 business-limiting SEO mistakes
The search engine optimisation (SEO) mistakes to avoid and what to do instead
How will this guide help me and my business?
Google's engineers have said there are at least 200 'ranking signals' which affect whether you can rank above your competitors or not for searches which will bring you new business. To make SEO even more challenging, many of them change frequently in Google's algorithm updates.
So, it can be really tough knowing what matters in SEO and what doesn't. To help give you focus, here we show some really common mistakes we have seen again and again from our experience working on SEO consulting and training projects.
We think SEO isn't just for SEO specialists, all 'hands-on' marketers need to understand the main factors so they can ask the tough questions of SEO specialists and agencies - we hope this guide helps you do just that.
Make no mistake, If you don't take control of your own SEO destiny you will be limiting your potential to grow your business compared to competitors who are more SEO savvy.
Who is this guide for?
This guide and others in our SEO toolkit are designed for non-SEO specialists to improve their understanding of the SEO ranking factors that matter. This will help them work more effectively with SEO consultants and agencies by asking them the questions that matter!
The guide is aimed at:
Marketing managers responsible for specialist SEO agencies or consultants
Digital marketing managers directly responsible for SEO
SEO specialists and agencies who want to review their approach against the best practices
How is the guide structured?
This sample guide covers 10 common mistakes – access it to find out which of these mistakes you may be making and which you're not.
Resource Details
Guide format: Online interactive format suitable for printing if needed
Related resources: See the SEO toolkit resources below
Author: Gavin Llewellyn
About the author
Gavin Llewellyn

Gavin Llewellyn is an independent consultant who has worked in different marketing manager roles where he has been responsible for SEO including financial services, consumer brands and retail.
He is a Chartered Marketer who specialises in digital marketing with a focus on SEO, Social media marketing and online strategy. Gavin blogs at One Too Many Mornings where he offers advice, guidance and ideas on how individuals and companies can use digital marketing effectively to get found online, build engagement and generate conversion.
You can Follow Gavin on Twitter and Google+.

Free Membership is required
Access this resource now
Get access to this and 25 other sample guides and templates with a Free Membership
Join for free and get this sample guide
Already a Free member? Login here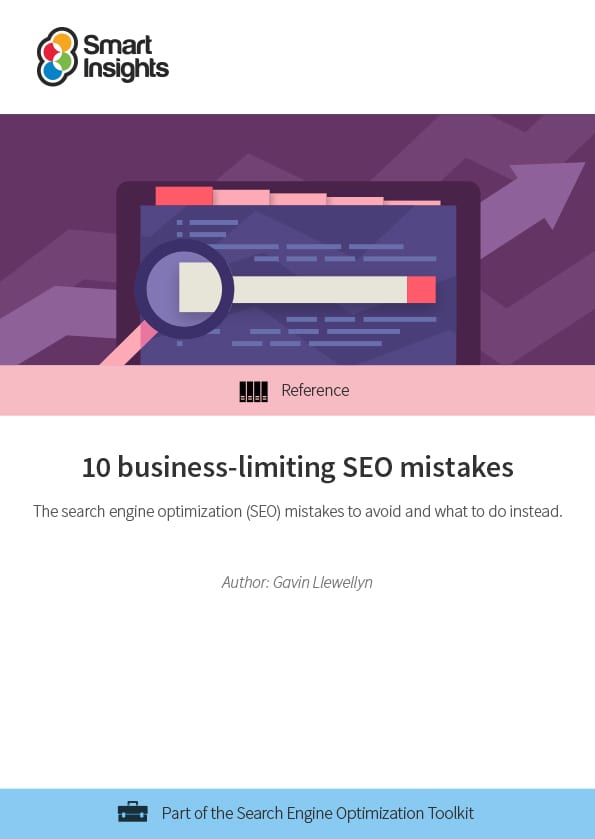 Look Inside