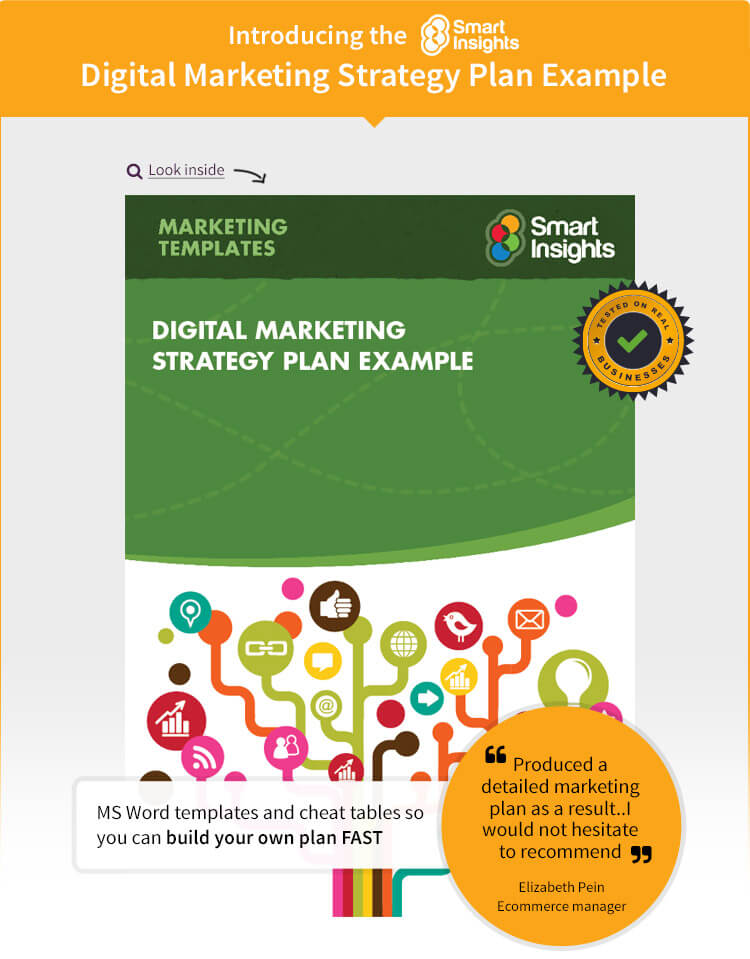 Discover how our Digital Strategy Tools will help you to succeed quickly and more easily—so whatever the situation, you'll look like the smartest person in the room.
Don't just take our word for it. Global brands like Canon, HSBC and HP—and thousands of digital marketers and business owners—are using these strategies to optimise their digital marketing. Many have grown their businesses by over 50%—these are proven strategies that you can download and start applying to your business TODAY.

About the Digital Marketing Strategy Plan Example
Putting a successful digital marketing plan together is hard—even ace digital marketers waste hours staring at a blank screen. And when you do finally scribble something down, how do you know you've nailed it? How can you be sure your results are going to skyrocket, and not nosedive into the ground?
That's why we have created our Digital Marketing Strategy Plan Example. It's the quickest, easiest way we know to show you how this stuff is done. We've designed it so that, with a little cutting and pasting, you'll be well on your way to impressing your colleagues with a world class digital marketing plan that's proven to work.
You'll get crystal clear examples of everything you need to build your winning plan. PLUS, we'll reveal:
Why you should set your objectives after you've reviewed the current marketplace and the contribution of your existing digital channels (and we'll show you how to do it).
How to focus on the four critical components for success—customer acquisition, conversion, customer retention and loyalty.
The secrets of successfully integrating content marketing, SEO, social media, email marketing—and all your marketing activities—into your campaigns.
The vital few tactics and actions you need to take to implement your strategy—saving you hours and taking your results to the next level.
And a whole lot more besides!
Our example plan has been designed so you can pick it up and start editing for your own business (or clients) immediately. In fact, it is one of the most practical resources we have ever created.
So don't waste another minute. Get building your winning plan right away—it's fast and super-simple with our Digital Marketing Strategy Plan Example.
Click below to see the full list of what's included.

Look inside the Digital Marketing Strategy Plan Example