US and Europe display ad clickthrough rates statistics summary
I've put this brief compilation together to help marketers and students studying interactive marketing create direct response conversion models for digital marketing campaigns.
Doubleclick (the display advertising arm of Google) are the best source for this data globally, but unfortunately, they don't update their data often. Check the Doubleclick Ad Research Page for the latest.
For anyone researching trends in display advertising in different countries or sectors this other report could be useful. In 2012, Doubleclick did publish a PDF report that gives additional insight on the most popular ad formats and the importance of display ads in different sectors.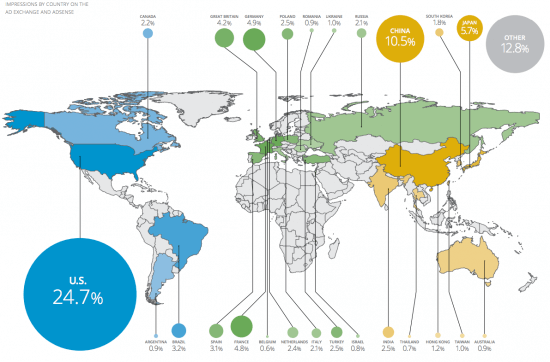 Average Internet ad clickthrough and interaction rates
Display ads are renowned for low clickthrough rates as this compilation of display ad clickthrough rates from across the UK and Europe shows. Display ads only gain around 1 click every 1000 impressions. Shocking! It seems that banner blindness is alive and kicking. But if you review interaction rates, there is a greater degree of interaction depending on format as the charts later in this post show.
| | | | | | | |
| --- | --- | --- | --- | --- | --- | --- |
| Clickthrough Rate (CTR) | Interaction Rate (%) | Average Interaction Time | Expansion Rate | Video Complete Rate | Average Display Time | Average Expanding Time |
| 0.11% | 2.41% | 9.31 secs | 5.63% | 51.08% | 34.70 secs | 6.07 secs |
Source: DoubleClick for Advertisers, a cross section of regions, January and December 2009, Published July 2010
Variation in online ad clickthrough rates by country
Banner ads are somewhat more effective in some countries, particularly Asia-Pacific, but as you would expect, figures are similar.
Region
Overall Click-through Rate Percent (%)
North America
Canada
0.09%
United States
0.10%
EMEA
Austria
0.11%
Belgium
0.13%
Denmark
0.12%
Finland
0.05%
France
0.12%
Germany
0.11%
Greece
0.17%
Ireland
0.10%
Italy
0.10%
Luxembourg
0.09%
Netherlands
0.14%
Norway
0.11%
Spain
0.12%
Sweden
0.08%
Switzerland
0.12%
United Arab Emirates
0.18%
United Kingdom
0.07%
JAPAC
Australia
0.07%
China
0.12%
Hong Kong
0.17%
India
0.18%
Malaysia
0.30%
Singapore

0.19%
Source: DoubleClick for Advertisers, a cross section of regions, January and December 2009, Published July 2010
For latest data see Doubleclick Display Ad Benchmark Statistics.
Variation in online ad Clickthrough Rates by ad format
Ad clickthrough rate naturally varies according to placement (position on screen) and ad format (shape and size). The traditional full-banner performs very poorly compared to skyscrapers, the ubiquitous medium rectange and the newer large rectangle format.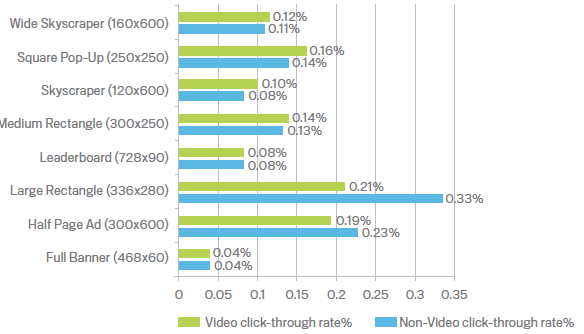 Variation in online ad Interaction Rates by ad format
Interaction rats differ for different ad formats in a similar way to ad formats.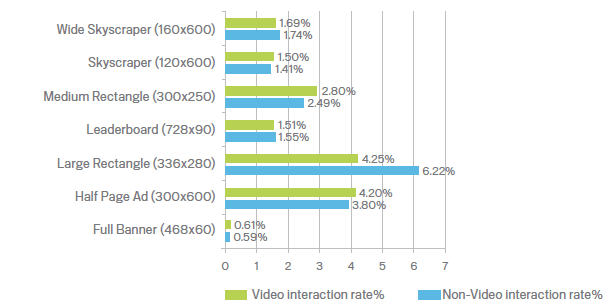 Interaction rate definition:
Interactions are defined as the user does one or more of the following:
Mouses over the ad for 1 continuous second

Clicks an Exit link

Makes the ad display in Full Screen mode

Expands the ad