How to optimize your LinkedIn marketing
Learn how to improve and promote your LinkedIn profile so that your target market follows you, connects with you, and buys from you
What will I learn?
After this Quick Win, you will be able to:
Understand how the LinkedIn search engine works and what makes it easy for potential clients to find you.
Ensure your LinkedIn profile is highly visible and relevant to the needs of your target market.
Grow your LinkedIn network fast with contacts who are a good fit for your business.
Understand what you need to say to LinkedIn contacts to get them to connect with you and read your content.
Share content on LinkedIn in a way that positions you as a highly-visible expert in your industry or niche.
How is this Quick Win structured?
Ensure you've completed the key parts of your profile that get you noticed: your professional headline, professional summary, and experience
Enhance your profile to demonstrate your expertise: Add visual content such as videos, presentations, and articles
The three key ways to grow your target audience: import your existing contacts, generate referrals to new ones and connect directly with those you previously haven't had any contact with
Etiquette when using LinkedIn: What you need to say (and avoid saying) when connecting to new users and having discussions with existing ones
Promoting thought leadership: What type of content do you need to share to position yourself as an expert? How can you increase your visibility?
How to stay top of mind: Increase your presence through the use of posts, blogs, and messages. Tips and tricks to ensure your posts are seen by more of your network
LinkedIn groups: What groups are right for you and how do you make the most of them?
About the author
Danny Bermant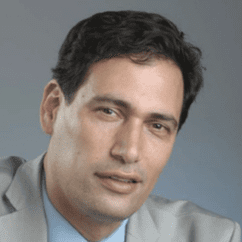 With 18 years' experience in digital marketing, Danny is one of the UK's top social media experts, helping companies generate new business through their social media presence.
He has a particular interest in the financial services and healthcare sectors, although he has worked with many other sectors too.
Danny teaches social media strategy with the Chartered Institute of Marketing and is a sought-after speaker who regularly addresses conferences on how social media can be used for customer acquisition.
He has been published widely on social media strategy, including The Smarter LinkedIn Marketing Guide, The Managing Social Media Marketing Guide, The Influencer Outreach Guide – How to convert brand influencers into brand advocates, and The Video Marketing Guide

Individual

Business
Access this Quick Win now
Learn more
Individual and Business members get full access to this and 55 other quick wins.
Already an Individual or Business member?
Login here
How to optimize your LinkedIn marketing