Smarter Facebook marketing guide
How to grow your business by engaging Facebook users
How will this guide help me and my business?
This guide will allow you to create a plan for managing Facebook communications in your company or for your clients. It will help you grow your following and use Facebook more cost-effectively.
Facebook is a global phenomenon, it doesn't need an introduction when it has over one billion active monthly users worldwide.
Our Facebook guide shows you:
For marketers engaging these users with their brands is an increasing challenge. How do you make the most of this opportunity to market your brand? That's what this guide focuses on. This practical guide will help you:
Set up and review a business page that makes the most of Facebook's features
Create a plan for managing Facebook communications in your company or for your clients
Grow your fans and engage them through your status updates
Use Facebook advertising cost-effectively (See our separate Facebook Advertising guide for more details)
Encourage sharing and advocacy amongst your fans
Encourage sales through Facebook
Who is this guide for?
CMO's will get a high-level view in certain sections, as will marketing managers. Social media managers and execs can use this guide as a bible for their Facebook strategy and approach. Small and medium business owners can also benefit from this guide, as it gives both a strategic and practical approach.
How is the Facebook marketing strategy guide structured?
The guide includes 7 steps which aim to help you with a true all round understanding of Facebook Marketing.
Understanding the mindset of Facebook users to better persuade them to engage
Sections on using Facebook to Reach, Interact, Convert and Engage your audience
A checklist of 10 key techniques to improve the marketing effectiveness of your Facebook Page
Tips and ideas on the best types of content to share
Packed with examples from a range of companies in different sectors to inspire ideas on the best types of content to share
Resource Details
Format: PDF download for you to read and absorb in your own time
Related recommended resources: SOur Facebook guide is a series of in-depth, practical guides to using the key social media networks.  Our other premium member guides on Google+, LinkedIn, Instagram Twitter and Pinterest are featured on our social media strategy page. We also have a separate guide to Facebook Advertising.
Authors: Rhian Harris and Marie Page
About the authors
Rhian and Marie have produced this guide, it was originally produced by Marie, with recent updates by Rhian Harris.
Rhian Harris

Rhian Harris is a copywriter and blogger helping businesses with content for their marketing collateral. Starting out in the shiny new digital world in 2004, Rhian gained experience in all areas of digital media and e-commerce, working in utilities, travel, charity and retail sectors.
IDM qualified, Rhian is an online marketing all-rounder with a passion for words. She is a regular expert commentator for Smart Insights as well as other expert sites, as well as her own business Sparkly Content and her personal blog, From Tum To Mum.
You can follow Rhian on Twitter and Instagram
Marie Page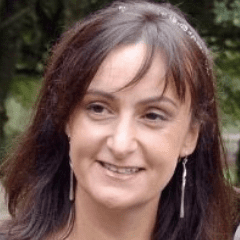 This Guide was first produced by Marie Page who you may know as a regular Expert Commentator contributing to Smart Insights focusing on social media marketing and in particular Facebook. Marie is co-founder and senior consultant at The Digiterati, a collective of specialist digital marketing consultants providing actionable training and proven tactical marketing input to clients.

Individual

Business
Access this resource now
Individual and Business members get full access to this and 12 other guides in the Social media marketing Toolkit.
Learn more about membership
Already an Individual or Business member?
Login here