Mobile marketing strategy guide
A practical guide to creating a plan to increase the commercial contribution from mobile audiences
About our 7 Steps to mobile marketing strategy Ebook
Our mobile marketing best practices ebook is a comprehensive guide to helping businesses exploit the opportunities of mobile commerce.
Our guide shows you:
Key issues to review to develop a long-term mobile strategy
How to develop models to prove the case for investment and ROI from mobile marketing
Practical guidance on taking the right decisions on mobile sites, search marketing and couponing
Many examples of best practice for successful mobile sites, apps and campaigns to inspire your implementation
How to gain visibility and active users for your mobile services using mobile search marketing, advertising and integrated campaigns
Statistics sources and approaches to help you develop your business case for mobile marketing
What does the mobile marketing briefing include?
We review mobile marketing in these 7 key areas to help create a comprehensive mobile marketing strategy:
Introduction. The growing importance of mobile marketing
Step 1. Making the business case for mobile marketing
Step 2. Create mobile strategy
Step 3. Mobile design: create compelling mobile experiences
Step 4. Mobile search marketing and advertising
Step 5. Mobile commerce and mobile payments
Step 6. Mobile CRM and mobile coupons
Step 7. Integrating mobile, local and social
About the authors of the mobile marketing strategy guide
Dr. Dave Chaffey

Dave is co-CEO and co-founder of Smart Insights. He is editor of the 100 templates, ebooks and courses in the digital marketing resource library created by our team of 25+ Digital Marketing experts. Our resources used by our premium members in more than 80 countries to Map, Plan and Manage their digital marketing.
For his full profile, or to connect on LinkedIn or other social networks, see the About Dave Chaffey profile page on Smart Insights. Dave is author of 5 bestselling books on digital marketing including Digital Marketing Excellence and Digital Marketing: Strategy, Implementation and Practice. In 2004 he was recognised by the Chartered Institute of Marketing as one of 50 marketing 'gurus' worldwide who have helped shape the future of marketing.
Rob Thurner
Rob is a mobile consultant, author, trainer, and speaker with 10 years experience in the mobile sector. He is Managing Partner of Burn The Sky, the full service mobile agency which connects brands to multi-screen consumers. Rob delivers mobile consultancy and mobile talent development projects for American Express, Barclays, Barclaycard, Betfair, Carphone Warehouse, Heineken, Ladbrokes, O2, Paddy Power and Richemont. Rob runs intermediate and advanced courses for marketers of all levels of expertise across Europe and the USA. His training partners include the IDM, Econsultancy, The Knowledge Engineers, Emarketeers and the IAB. You can connect with Rob through LinkedIn.
Who is this guide for?
This in-depth but actionable guide to mobile optimization is designed to be useful for marketers working across a wide range of industries, in any web-facing role. It has been designed specifically for:
B2C marketers across many different verticals.
Consultants working on mobile optimization projects for clients
Ecommerce marketers looking to boost mobile conversion rate and mobile AOV.
Marketing managers looking to create a company-wide mobile marketing strategy
Resource Details

Individual

Business
Access this resource now
Individual and Business members get full access to this and 11 other guides in the Digital experience management Toolkit.
Learn more about membership
Already an Individual or Business member?
Login here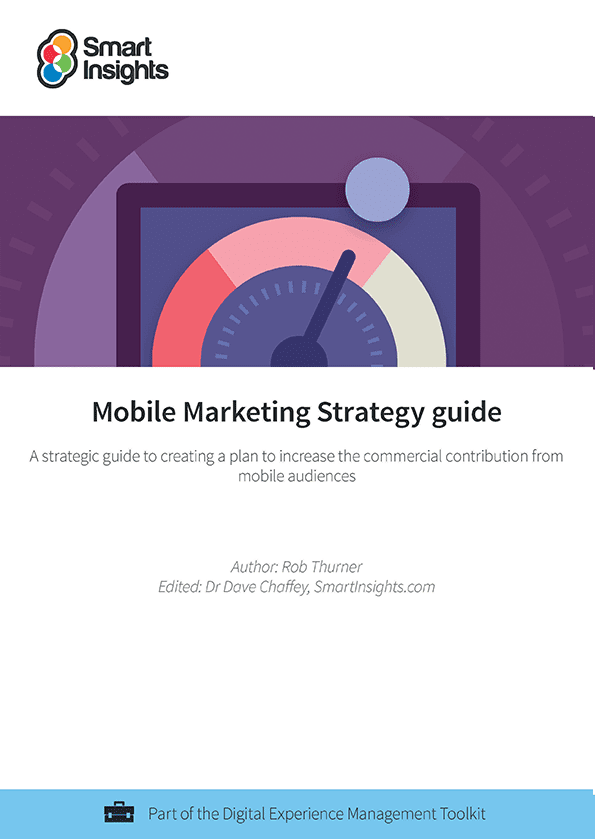 Look Inside