Digital marketing planning infographics
Use our collection of 'mind tools' to improve your digital marketing
How will these infographics help me and my business?
We believe useful infographics are a great way to share knowledge, whether they summarise trends from statistics or approaches to marketing.
We've developed our infographics to help marketers tackle digital marketing in a more structured way. They're not ordinary stat-rich infographics, but structured mind tools to explain digital marketing concepts and help you think through the options to improve marketing approaches, either through individual analysis or discussion in a team.
They're all practical tools we use many of these infographics actively in group activities in our in-company digital strategy training workshops.
Our infographics are intended to help you map, plan and manage your approach while explaining some of the core approaches that make digital marketing successful.
How is the guide structured?
We have created nine infographics focused on planning and process to help you develop your approaches:
1. Multichannel Marketing Growth Wheel
2. The RACE digital marketing planning framework
3. RACE digital marketing planning system model
4. PR Smith's SOSTAC® strategy process
5. Content Marketing Blueprint for inbound marketing
6. The Content Marketing Matrix
7. The Content Distribution Matrix
8. Digital Marketing Radar
9. Social Media Marketing Radar
10. Consumer Decision Journey
Resource Details
Format: 20 page download with full-page size visuals at high resolution
Authors: The majority of these infographics were created by Dave Chaffey of Smart Insights in partnership with First 10.

Individual

Business
Individual or Business members get full access to this and 18 other guides in the Digital Marketing Strategy and Planning Toolkit.
Learn more about membership
Already an Individual or Business member?
Login here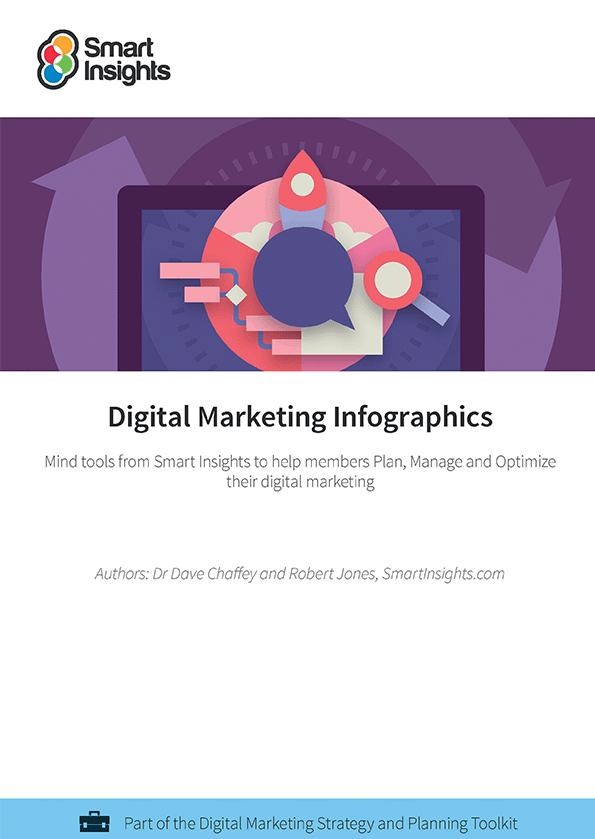 Look Inside