Essential Digital Marketing Tools
A free download giving our recommendations on tools for audience insight and managing digital marketing
This guide gives Free members a preview of the 30 categories of digital marketing tools you should be using for your marketing. We offer a full (200+ page) Marketing Technology Selection Tools Guide for Business members, however, this free guide will give you a taster of the 30 categories and 150 tools which are most popular.
This guide presents the tools we recommend you use, it contains our updated Essential Tools wheel.
This is a sample of our Marketing Technology Selection Guide which contains hundreds of recommendations across more than 30 categories, with full breakdowns on cost, features and much more.
Rather than simply categorising tools, we have also grouped them across the Smart Insights RACE Planning framework for managing digital marketing so you can review where you could make better use of the tools across the customer lifecycle.
Business members of Smart Insights can view the full 200+ page guide here.  The full guide:
Explains the 30 categories
Gives recommendations on the top 5 tools in each category
Provides a separate tool for auditing your martech stack
Recommends a process of martech selection
Resource Details
About the author
The Smart Insights Marketing team have produced this guide. Thanks to Dave Chaffey, Pat Kelly, Robert Jones, Robert Allen, Kim Greenop-Gadsby and Jessica Wade.
What's inside?
The guide offers a snapshot of the services and tools across various categories. We have grouped the tools in our Essential Tools wheel.

Free Membership is required
Access this resource now
Get access to this and 26 other sample guides and templates with a Free Membership
Join for free and get this sample guide
Already a Free member? Login here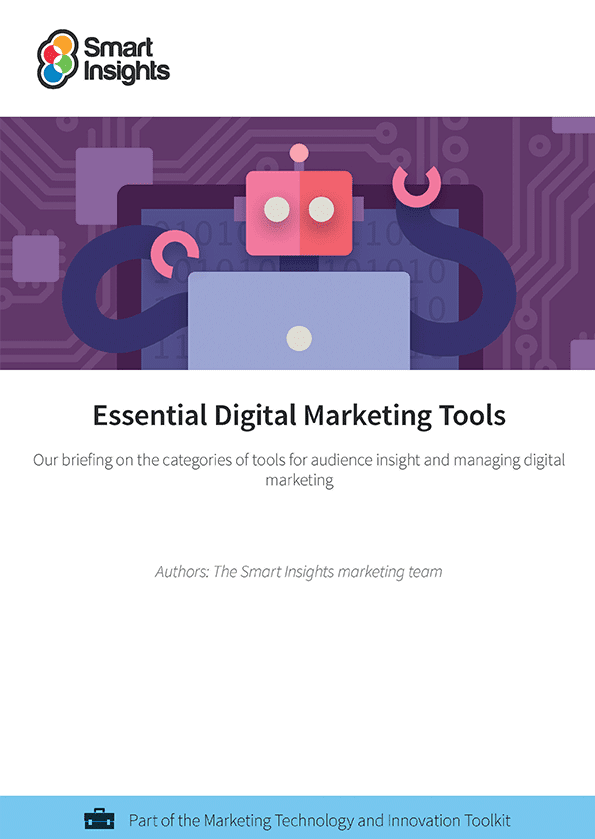 Look Inside