E-commerce statistics benchmark
Our reference sources of the latest consumer adoption and conversion benchmarks for Ecommerce
Who is this guide for?
This guide is for anyone who works in Ecommerce marketing who needs to review the latest customer adoption research and statistics or conversion rates to compare their performance or set targets for plans.
Which statistics does the compilation include?
To make it quick to find the relevant statistics we have structured the research using the Smart Insights framework for the customer lifecycle or marketing funnel:
Reach: Traffic sources
Act: Interaction and add-to-basket
Convert: Conversion to sale
Engage: Email and social media engagement
Our E-commerce statistics resource provides the latest statistics on customer adoption, and stats that can be used for benchmarking, including conversion statistics and much more.
What is the aim of this resource?
The aim of our statistics compilations is to help you take the right decisions and make the case for investment in E-commerce and digital marketing, whether it's improvements to your platforms or to help inform which marketing techniques to prioritise.
The purpose of this benchmarks compilation is to help businesses compare their performance to answer questions like "How do we compare?", "What does good look like?" and "What is the gap, the potential for improving results?" for different channels and platforms.
We aim to compile and regularly update the latest, most useful adoption and benchmarking statistics from the best sources clearly showing the research source and sample.
Resource Details
To plan, manage and optimise E-commerce you need to set targets, review performance and compare against other competitors. Our E-commerce statistics compilation structured around the customer lifecycle will help you benchmark your performance to make the business case for investment and set targets for future improvement.

Business Membership is required
Access this resource now
Business members get full access to this and 11 other guides in the E-commerce/retail Toolkit.
Learn more about business membership
Already a Business member? Login here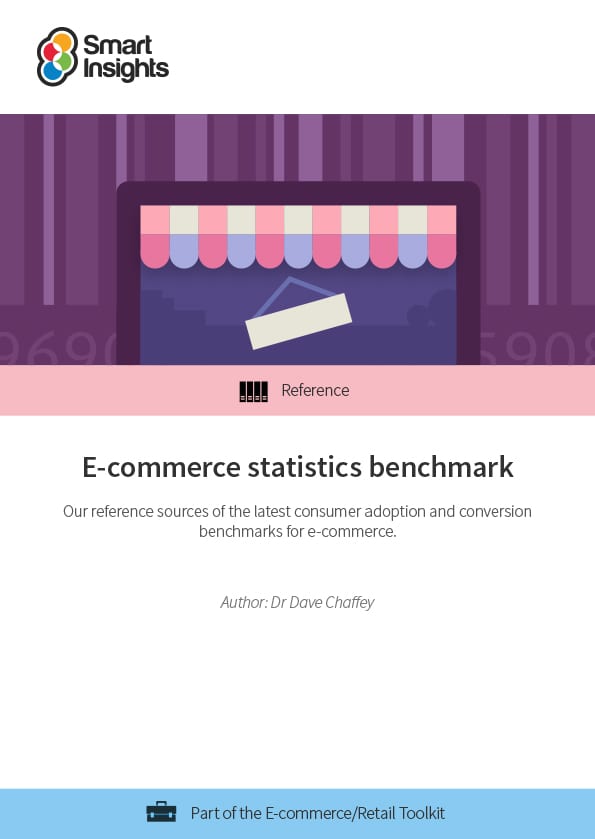 Look Inside