10 digital marketing megatrends 2019
10 actionable megatrends across the 5 pillars of marketing today
This free guide for all members shows how your business can get an edge by reviewing 5 key types of marketing trends and specific digital marketing techniques which will help your business become more competitive.
In this guide we take a look at what Smart Insights see as the 10 most significant trends, or 'megatrends', in marketing for the year ahead.
The aim of this briefing is to help you review the main trends in marketing which are likely to impact your business in 2019 and beyond.
How is the guide structured?
The ten trends are structured around the 5 pillars of marketing that businesses of all types need to action to stay competitive.
The five pillars we discuss are:
 Audience – value proposition
UX, Content and Communications
Optimizing platform best-practices
Managing brand, people and process
Marketing Technology
Resource Details
Guide format: Online interactive format suitable for printing if needed
Author: Dr. Dave Chaffey
About the author
Dr. Dave Chaffey

Dave is co-CEO and co-founder of Smart Insights. He is editor of the 100 templates, ebooks and courses in the digital marketing resource library created by our team of 25+ Digital Marketing experts. Our resources used by our premium members in more than 80 countries to Map, Plan and Manage their digital marketing.
For his full profile, or to connect on LinkedIn or other social networks, see the About Dave Chaffey profile page on Smart Insights. Dave is author of 5 bestselling books on digital marketing including Digital Marketing Excellence and Digital Marketing: Strategy, Implementation and Practice. In 2004 he was recognised by the Chartered Institute of Marketing as one of 50 marketing 'gurus' worldwide who have helped shape the future of marketing.

Free Membership is required
Access this resource now
Get access to this and 25 other sample guides and templates with a Free Membership
Join for free and get this sample guide
Already a Free member? Login here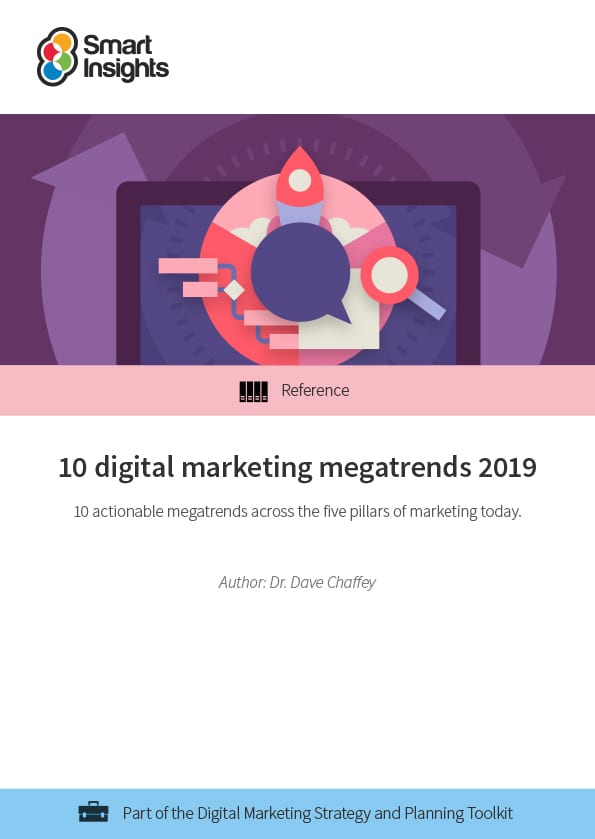 Look Inside