Marketing campaign planning mistakes
Our free guide to help you plan better campaigns
Our practical and actionable guide will help you plan your marketing campaigns better, the guide aims to help you plan better, integrate more and use digital media effectively.
Sometimes things go wrong and it's often for the same reasons; lack of planning, preparation and understanding.
Over the last 20 years as we have consulted and trained with many businesses and we have seen many different mistakes which result in disastrous campaigns. Yet there are some common mistakes we see that are often repeated. Some examples are summarised here so you can avoid history repeating itself in your organisation.
This practical guide doesn't just detail the mistakes, it also provides solutions, strategy recommendations and recommended resources to help you avoid these mistakes. With clear indication of what to do instead, the guide explores common marketing campaign planning errors in social media, traditional media and integration.
Discover in this brief, highly actionable guide:
The problem with failing to plan and what you can do about it
The problem with a lack of integration and how to solve integration problems
How to avoid over-protecting a brand which can limit campaign effectiveness
Who is this guide for?
This guide is for anyone who is involved with planning and implementing marketing campaigns. It will give you practical ideas useful at all levels whether you are designing the campaign or implementing or reviewing it.
Resource Details
About the author
Annmarie Hanlon

Annmarie Hanlon is the Smart Insights expert commentator on online and offline marketing strategies for business. Annmarie is the MD of Evonomie and author of Quick Win Marketing, and co-author of Quick Win Digital Marketing. She runs social media workshops in the UK and Ireland and shares marketing tips and news in her blog, B2B Marketing. You can follow Annmarie on Twitter or connect on LinkedIn.
What's inside?
The guide lists 10 mistakes with practical solutions, strategy recommendations and recommended resources.

Free Membership is required
Access this resource now
Get access to this and 26 other sample guides and templates with a Free Membership
Join for free and get this sample guide
Already a Free member? Login here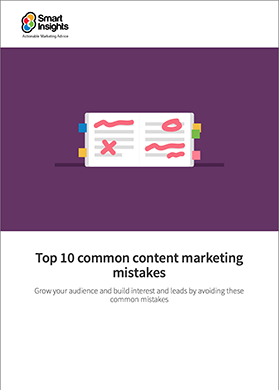 Look Inside