To succeed in the future, businesses and other organisations will need marketers, strategists and agencies with up-to-date knowledge of the latest online marketing techniques. In this article, we will introduce how to create an online marketing strategy by selecting the best tools to grow your online presence. We'll cover the most important digital media which you will likely be familiar with, such as search, social media and e-mail marketing, but also some lower-cost techniques you may not know of, but are particularly important to startups and small businesses.
What is online marketing?
Online marketing involves using different types of online paid, owned and earned media aimed to reach your marketing goals, i.e. to help promote your products or services. The classic model of online marketing is that you grow awareness of your business and its products by gaining visibility by gaining placements on different types of online presence. These placements then give the option to drive visitors to your website where you can explain more about your brand with the aim of converting these visitors to purchase. This visual shows six types of online media used to drive people to your website.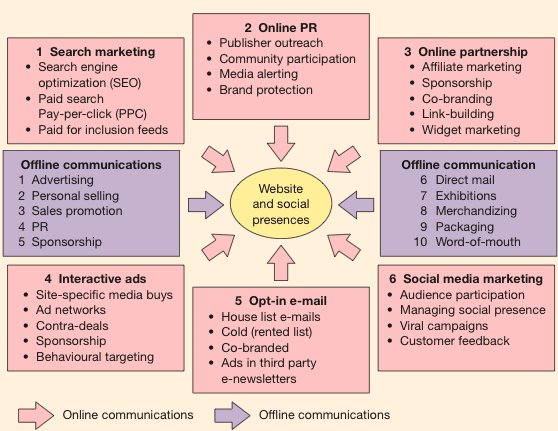 We used this visual in early editions of our book, Digital Marketing: Strategy, Implementation and Practice to summarize the main online marketing techniques. We now have a new version of this visual with additional techniques, which we include in the section on online marketing tools.
Although the ultimate aim of investing in online media is often to drive visitors to a website or to encourage them to download a mobile app. If you have one, there is often a benefit in communicating about the brand on other sites. For example, research has shown that when people see display ads or videos on YouTube, this will encourage them to visit websites by searching on them. These indirectly prompted visits are sometimes called 'viewthroughs', rather than 'clickthroughs'. Alternatively, people may view ads or read an article on social media or on an online publisher, and then visit a store if it is in their neighbourhood.
Online media may also be aimed at driving traffic to other forms of online presence, such as a social media page or Google My Business which is really important to for businesses with a local presence such as a stores and services. People often search for a physical business by adding 'near me', or the name of a town. It's really important to gain visibility in the maps and listings in Google My Business in these cases; this is called local search marketing..
Once visitors are attracted to your website, you can sell directly online via E-commerce if you are running a direct-to-consumer (D2C) business model where product inventory is available online. Alternatively, 'click-and-collect' services may integrate with offline stores. However, if your business sells complex, more expensive products which is often the case for business-to-business services, you may need sales people to discuss the options with your prospects as part of the buying process. websites and other online platforms such as company social media pages and Google My Business..
How is online marketing different from digital marketing?
Online marketing is very similar to digital marketing in meaning, in fact the difference is mainly historical. As this chart from Google Trends shows, the labels Internet marketing and online marketing used to be more popular than digital marketing, but digital marketing has grown in popularity in recent years. So most people in English-speaking countries refer to digital marketing, whereas in other countries, such as in European countries, online marketing is more widely used.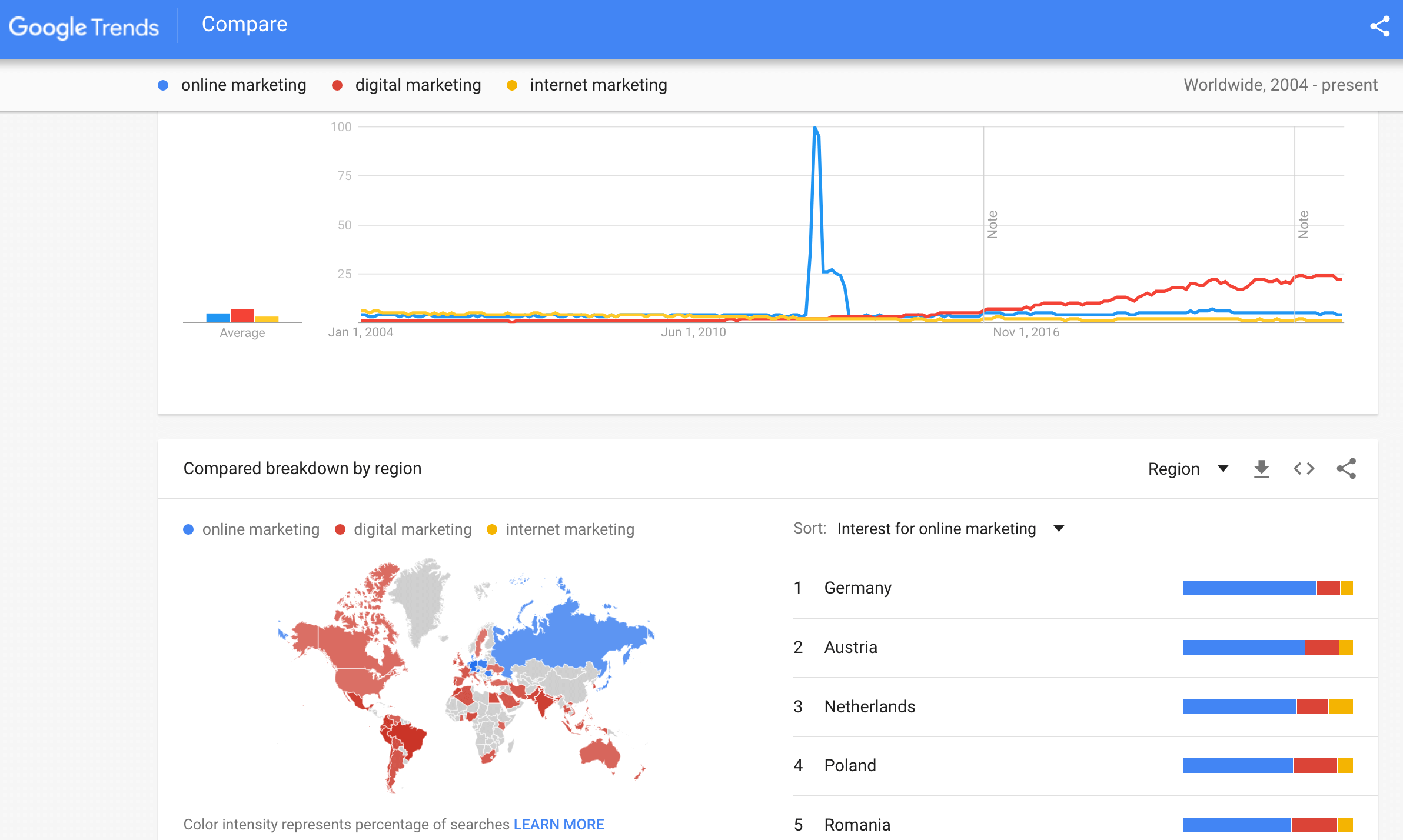 Although online marketing and digital marketing are synonymous to most people, some might say that digital marketing is broader than online marketing, which tends to focus on the digital media we have described. Digital marketing is considered to focus also on the management of online marketing through technology and the analysis of it through data, so customer relationship management systems would be considered digital marketing rather than online marketing by some.
The aims of online marketing
The goal of online marketing is simple, it's aimed at supporting you in your marketing goals to raise awareness of your products amongst the audience you have selected to target as part of your marketing strategy.
To decide on the best approach to online marketing, it is helpful to think about how it can help you support your goals through the customer lifecycle and through marketing campaigns.
At Smart Insights we created the RACE marketing planning framework which maps the online customer journey across all potential touchpoints. Within this framework of Reach, Act, Convert and Engage across all channels, you can implement digital practices effectively within your organization by planning, managing and optimizing your digital media, digital experiences and digital data. This is shown in the visual below where different online media techniques are used at different stages.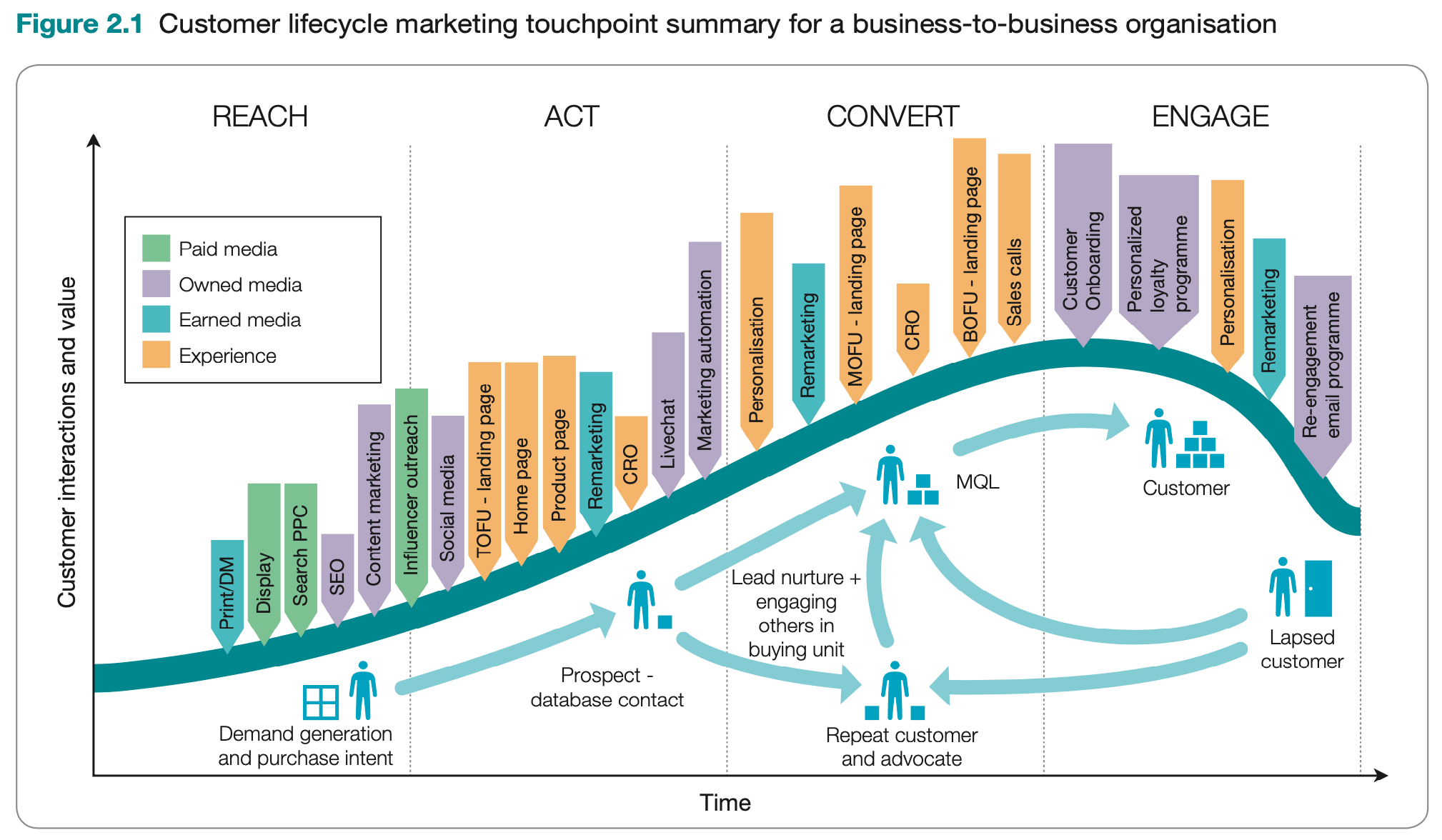 We developed this customer lifecycle view to show the importance of 'always-on marketing', which is where investments in online marketing are aimed at maintaining continuous visibility online as people search for you and engage with you through social media and your website. This contrasts with traditional thinking about marketing campaigns to raise awareness of new products or promotions. These are still important, but it's equally important not to neglect always on activity and to have a sufficient budget for it.
TOFU, MOFU, MOFU refers to Top, middle and bottom-of-funnel content where content is used to support nurturing through the customer lifecycle. CRO is conversion rate optimization, which is using AB Testing of different creative and copy on a site to increase conversion.
Online marketing strategy
Online marketing strategy, like other forms of marketing strategy, is about deciding which are the best investments you can make, which will help you achieve your goals, so it supports your marketing strategy of who you are targeting and the products you will provide with different features and price-points. So simply put, it's about setting priorities to make the best use of your online marketing budget, internal and agency resources and setting priorities. Since online marketing focuses on how you use digital media, online marketing strategy is about selecting the best media from the budget you have available. It's also about selecting the best always on activities that you can work on to gain visibility and increase conversion on your website. Our RACE framework can be used to structure your online marketing strategy for each part of the marketing funnel. For each part of RACE, it is important to review the current situation, set the right objectives and then select the right tools to achieve these.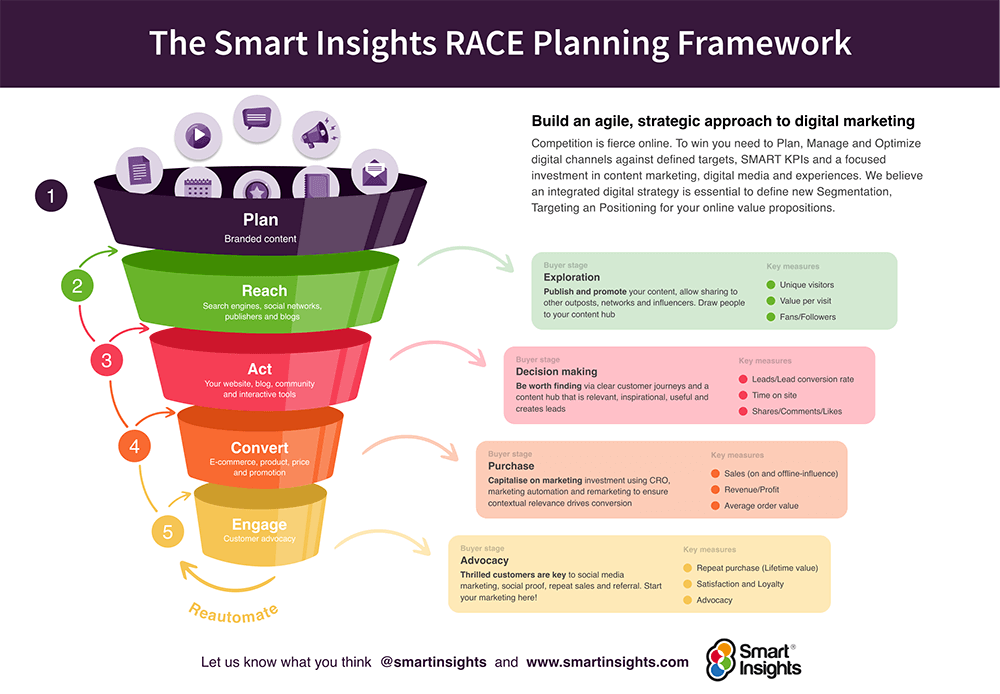 For our members to develop full online marketing strategies, RACE is divided into 25 essential activities that can be reviewed as priorities for both always-on and campaigns which are planned in across a year through our 90-day planning approach.
Typically, online marketing strategy can be developed as part of your annual marketing planning to drill down into which online marketing activities are important and you will work on optimizing. However, many larger businesses have found that they need to make big changes to their marketing operations to perform better in digital marketing. This may include new structures, resources skills, development and marketing technology. In these cases it's useful to have a longer term view of up to 3 years which is referred sometimes as a digital transformation programme.
To summarize, an effective online marketing strategy should:
Be aligned with business and marketing strategy (for example, many companies use a rolling three-year plan and vision), with more specific annual business priorities and initiatives.
Use clear objectives for business and brand development and the online contribution of leads and sales for the Internet or other digital channels. These should be based on models of the number using the channels.
Be consistent with the types of customers who use and can be effectively reached through the channel.
Define a compelling, differential value proposition for the channel which must be effectively communicated to customers.
Specify the mix of online and offline communication tools used to attract visitors to the company website or interact with the brand through other digital media such as e-mail or mobile.
Support the customer journey through the buying process as they select and purchase products using the digital channel in combination with other channels.
Manage the online customer lifecycle through the stages of attracting visitors to the website, converting them to customers and retention and growth.
Online marketing techniques
We recommend reviewing your use of online marketing techniques or online marketing channels across paid, owned and earned media:
Paid media. These are bought media where there is investment to pay for visitors, reach or conversions through search, display ad networks or affiliate marketing. Of-fline, traditional media like print and TV advertising and direct mail remain important, accounting for the majority of paid media spend.
Owned media. This is media owned by the brand. Online this includes a company's own websites, blogs, e-mail list, mobile apps or their social presence on Facebook, LinkedIn or Twitter. It's useful to think of a company's own presence as media in the sense that they are an alternative investment to other media and they offer opportunities to promote products using similar ad or editorial formats to other media. It emphasises the need for all organisations to become multi-channel publishers.
Earned media. Traditionally, earned media has been the name given to publicity generated through PR invested in targeting influencers to increase awareness about a brand. Now earned media also includes word-of-mouth that can be stimulated through viral and social media marketing, and conversations in social networks, blogs and other communities. It's useful to think of earned media as the sharing of engaging content developed through different types of partners such as publishers, bloggers and other influencers including customer advocates. Another way of thinking about earned media is as different forms of conversations between consumers and businesses occurring both online and offline.
This visual shows key types of digital marketing techniques across 6 media channels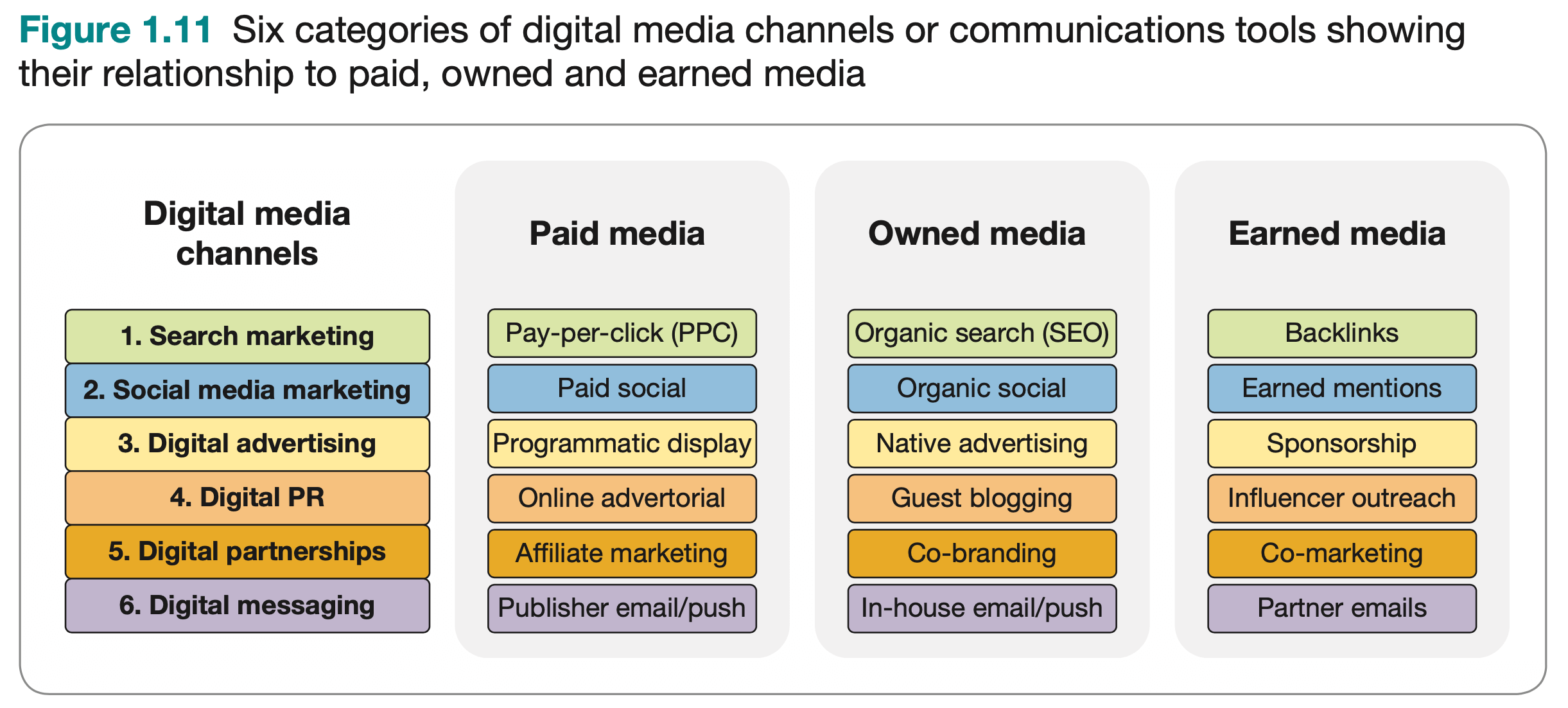 You can read more about each of these techniques in our article explaining What is Digital Marketing. Compared to the previous visual of online marketing tools, we recommend co-branding and co-marketing as low-cost techniques to consider.
Online marketing tools
Another part of online marketing strategy is to consider the marketing technology or Martech that will be used to support online marketing activities. This is sometimes known as a Martech stack. The visual in our online marketing tools post recommends different tools.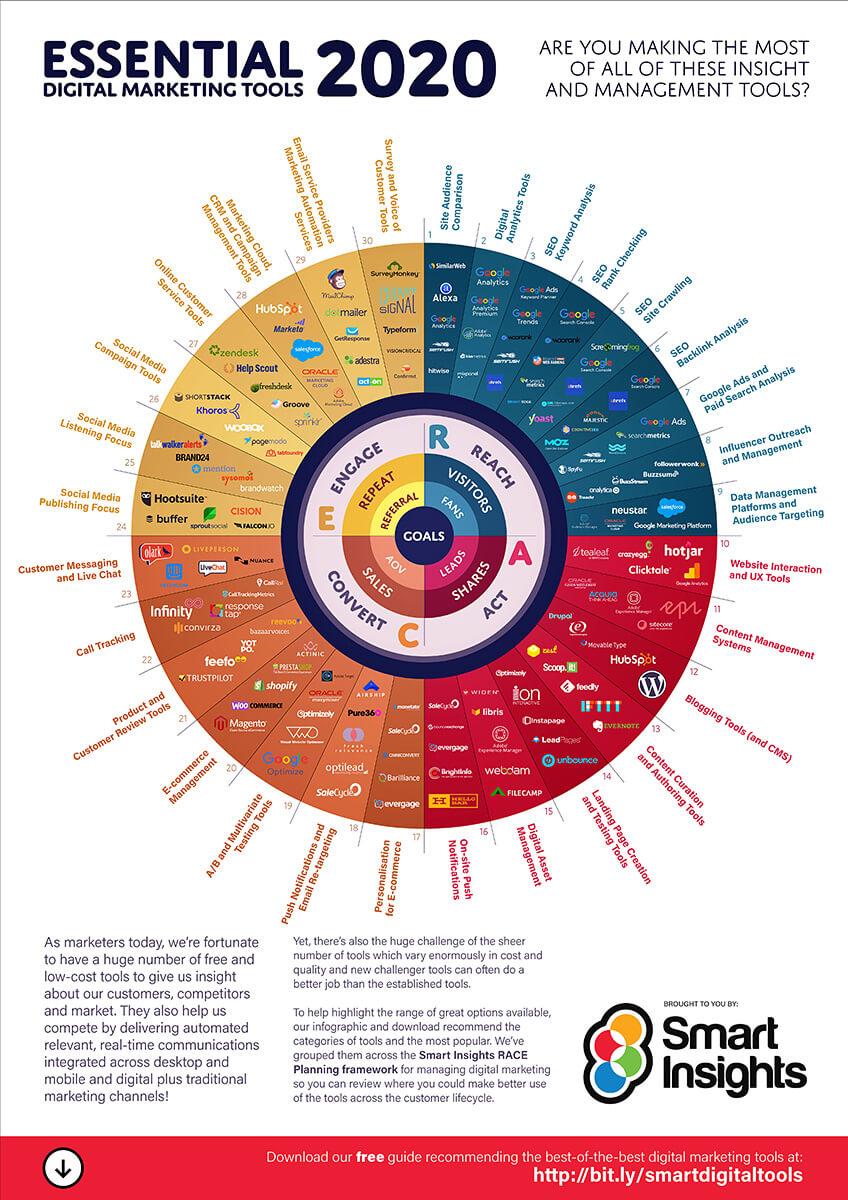 For each part of RACE shown on the wheel, we recommend eight different tools. Those at the edge of the wheel tends to be the low-cost or free tools, whereas those in the centre are more suitable for larger businesses.
Summary
We have seen that online marketing offers many opportunities across different digital media to grow a business. The complexity of options available through the customer life-cycle means that it is useful to have an online marketing plan to define what your priorities are for your budgets. For many businesses, the priorities are going to include search marketing, email, marketing and social media marketing plus optimisation of customer journeys on your website